Order of the Tower
Members make a deep commitment of time and energy to the Order, as they are Lees-McRae's top ambassadors in skills such as leadership, marketing and teamwork. The Order of the Tower's duties include assisting with Open House programs for future bobcats, serving as hosts for visiting groups and for social functions sponsored by the College, and assisting with the development of the annual Honors and Awards program and Commencement.
Meet the Current Order of the Tower Members
Maggie Thomas, President
Major: Nursing
Hometown: Boiling Springs, NC
Graduation date: 2019
Favorite thing about Lees-McRae: The way that faculty, staff and community members alike provide students with ample opportunities to grow as individuals, both academically and personally through classes, extracurricular activities and leadership opportunities. 
After college: I am looking to attend graduate school to become a Certified Nurse Midwife. Nurse Midwives are an integral part of the health experience for many women globally and I am looking forward to traveling domestically and abroad as a Nurse Midwife. 
Campus involvement: Student Nurses Association, cheerleading team, peer tutoring, Order of the Tower, Alpha Chi honor society, and Omicron Delta Kappa Leadership honor society
Hobbies: Walking on the beach, reading, photography and watching any sort of documentary that has something to do with birth! 
Mary Whiteacre, Vice President
Major: Wildlife Biology (concentration in wildlife rehabilitation) and Psychology, minor in Communication Arts and Design
Hometown: St. Cloud, FL
Graduation date: 2019
Favorite place on campus: The balcony of Cannon Cottage. It looks out over the mountains and is a perfect spot to hang out, bird watch, do homework, or watch the sunset on a nice evening.
My heroes: Mae Jemison (astronaut on the Space Shuttle Endeavour), Lilias Trotter (artist and missionary), Elon Musk (founder of SpaceX and Tesla Motors), and David Allen Sibley (American ornithologist)
Hobbies at Lees-McRae: I started clogging my freshman year (I'd never heard of it before) and have been doing it ever since! Other hobbies I've picked up since coming to Lees-McRae include pottery and photography.
After college: I want to attend graduate school and do research with birds!
Josh Cady, Secretary
Major: Criminal Justice, minor in Cycling Studies 
Hometown: Aiken, SC
Graduation date: 2018
Favorite thing about Lees-McRae: The unique classes it offers such as skiing and snowboarding, and of course, Banner Elk's average annual snowfall—because who doesn't love snow!? I like to ride my bike and go skiing in my free time.
After college: I plan on continuing my education and getting my master's degree in public administration.
Rebecca Pierce
Major: Criminal Justice and Religious Studies
Hometown: Fernandina Beach, FL
Graduation date: 2019
Favorite place on campus: It's a tie between the beautiful river and waterfall on campus and the gym during home basketball games. Both of these places are so unique because there is nothing like looking at the beautiful leaves and water while studying, but there's also nothing like that Bobcat pride when the team makes that basket.
Campus involvement: Tennis, Residence Life staff, Omicron Delta Kappa leadership honor society
After graduation: I want to work with at risk youth when I graduate, specifically middle to high school teens. I am so excited to carry every experience and memory Lees-McRae has provided me throughout the years to come even after college is long gone.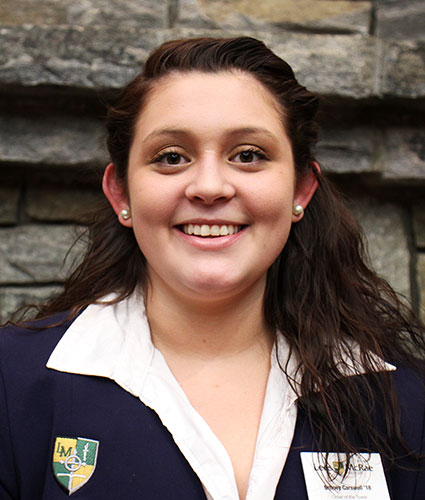 Britney Carswell
Major: Criminal Justice
Hometown: Burke County, NC
Graduation date: 2018
Favorite places on campus: The Student Development Office and the campus post office. SDO is like a small family that I get to engage with every day! Everyone in the office is so welcoming and will look after you as their own. The post office is also one of my favorite places to hangout, because not only do I get the opportunity to work there, I also get to hang out with Mrs. Sandy who is the absolute best! I look at her as family instead of a boss because she is so loving and caring and helps me love my job. But most of all I get to meet all the different students and engage in small talk as they pick up their packages or check their mail.
Hobbies: Painting and DIY projects are my life, and spending time with all my friends and family is a must! I'm obsessed  with One Tree Hill and Riverdale! Ask me who my spirit animal is and hands down I'll say Sophia Bush (Brooke Davis).
Favorite quote: "If you had a friend you'd never see again, what would you say? If you could do one last thing for someone you love, what would it be? Say it, do it, don't wait. Nothing lasts forever." – Brooke Davis
KJ Woods
Major: Business Administration with concentrations in Accounting and Finance
Hometown: Gastonia, NC
Graduation date: 2019
Favorite place on campus: Athletic facilities
Favorite thing about Lees-McRae: It's a tight-knit community. I chose Lees-McRae to better my education while still having the opportunity to play soccer.
Fun fact: I was born in Germany and lived there for eight years.
Favorite quote: "Each day is a new beginning."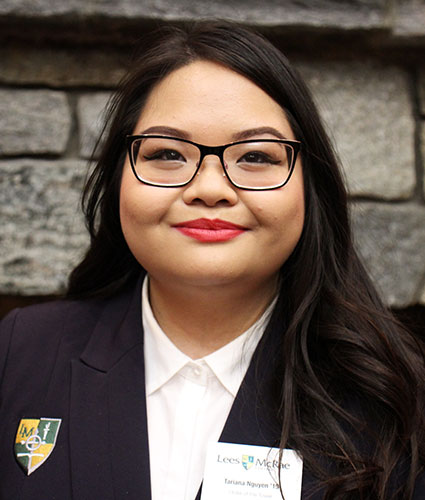 Tariana Nguyen
Major: Psychology and Wildlife Biology with a concentration in Wildlife Rehabilitation, minor in Business Administration
Hometown: Worcester, MA
Graduation date: 2018
Why I chose Lees-McRae: I was initially attracted by the wildlife rehab program, but fell completely in love when I knew it could be home. Lees-McRae has given me the most incredible opportunities and friends I would have never imagined having, and I'm the happiest I've ever been.
Campus involvement: SGA President, Omicron Delta Kappa Leadership honor society, Alpha Chi honor society, Supervising mentor at MWRC, Competition Rock Climbing Team, Institutional Research Assistant, Honors Class Representative, Backpack Program with Common Ground
Fun facts: After college, I would love to work for a non-profit organization dedicated to animal welfare, on the business/administrative side of things. And I refuse to own a color other than pink, but you'll occasionally see me in green and gold. #GoBobcats
Meredith Tillman
Major: Biology (Pre-Veterinary Medicine), minor in Wildlife Rehabilitation
Hometown: Gibson, NC
Graduation date: 2018
Campus involvement: I am a Resident Director and have been a part of our Residence Life team for three years. I am also heavily involved in our campus life events and am a member of our Programming Committee. When I am not in class, working in Student Development, on tours, or "doing rounds," I am hanging out with my friends enjoying all our campus has to offer.
Favorite thing about Lees-McRae: Enjoying the nature that surrounds us or checking out some of the awesome events that we host. There is always something to do!
Chloe Maddox
Major: Biology and Psychology
Hometown: I am from a small town in the mountains of Georgia, so Banner Elk feels like home to me. 
Graduation date: 2018
Favorite thing about Lees-McRae: I can bring my dogs to class!
Fun facts: I'm on the track and field team and I love to climb big rocks and explore these beautiful mountains. I also live off campus. It's great to me that commuters can be involved just as much as a on-campus student!