Dr. Herbert L. King Jr. became the 16th president of Lees-McRae on June 1, 2018. He was elected by the Board of Trustees on January 19, 2018. Prior to Lees-McRae, King served as Vice President for Institutional Advancement at Hampden-Sydney College in Hampden-Sydney, Virginia, where he was responsible for all development, alumni relations and career functions. His time at Hampden-Sydney also included aiding as a freshman advisor and as the leader of the freshman learning and living community.
In 2010, King worked as the Vice President for External Relations at Hollins University in Roanoke, Virginia, and prior as the Vice President for Institutional Advancement at Ferrum College in Ferrum, Virginia.
His experience extends beyond the scope of higher education with time as both Executive Director and Director of Development at the Patrick Henry Boys and Girls Homes in Brookneal, Virginia, where he was tasked with creating the organization's first strategic plan, launching comprehensive facility renovation efforts and multiple fundraising efforts. 
King received his Doctor of Education in educational leadership from The University of Virginia, his Master of Education in educational administration from Lynchburg College and his Bachelor of Arts in English and history from Hampden-Sydney.
In the Mountains, Of the Mountains, For the Mountains


EVENTS
INAUGURATION CEREMONY
Friday, October 5, 2018
2:00 p.m.
Historic Commons
WEDNESDAY, OCTOBER 3
Mountain Day of Service
9:00 a.m.
Campus and Community
Students, faculty, staff, and friends of the college will give back and work together on service projects in the community. 


Mountain Day Celebration
2:00 p.m.
Wildcat Lake
All participating volunteers are invited to close the day with a celebration at Wildcat Lake.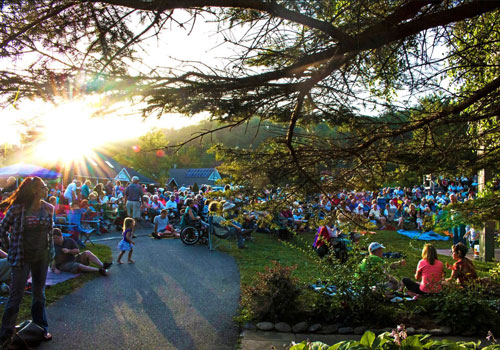 THURSDAY, OCTOBER 4
Founder's Day Ceremony
4:30 p.m.
Tate-Evans Park
The college and the Town of Banner Elk will co-host a celebration of their beginnings in Tate-Evans Park in Banner Elk, with a twin-tree planting and presentation of shared history by local historian, Michael Hardy.


Family Picnic and Concert
5:00 p.m.
Tate-Evans Park
The festivities will continue with a picnic and concert in Tate-Evans Park. The event will feature live entertainment by The Harris Brothers and Mountain Heart, food trucks, inflatable games, and interactive novelties.
FRIDAY, OCTOBER 5
Prayer Service
10:00 a.m.
Banner Elk Presbyterian Church
An interfaith prayer service at the Banner Elk Presbyterian Church will surround President King with blessings and prayer as he begins his tenure.


Inauguration Ceremony
2:00 p.m.
Historic Commons
Reception to follow
Representatives from the students, faculty, staff, alumni, and the community will welcome President King and bestow him with the symbols of office. A reception will follow in Swank Park.

Homecoming 2018
October 5–7

Extend your stay and enjoy a fun-filled weekend of catching up with friends, tailgating, and celebrating Our Mountain Home. Events include the Green and Gold Alumni Awards Brunch, Bobcat Tailgate, reunions, athletic events, and the one-and-only party on Tate Lawn!
Inauguration RSVP
Please reply by September 14, 2018. Note that delegates will appear in the ceremony program and process with their own academic regalia. Information will be sent to the delegate prior to inauguration.
With questions, email inauguration@lmc.edu. 
Inauguration Venues
Parking Locations
Chaffee Loop Lot (Delegate/VIP)
Chaffee Lower Lot (Delegate/VIP)
May School of Nursing and Health Sciences (Delegate/VIP)
Hayes Lot
Cannon Student Center Lot
Presbyterian Church Lot (handicap accessible parking)
 
Additional parking with shuttle service is available at the Historic Banner Elk School and the Banner Elk Town Hall.
 
   Ceremony Location

Ceremony FAQ
 

Is there a plan for inclement weather?

In the event of inclement weather, the ceremony will be held in Hayes Auditorium and the reception to follow in King-Shivell Gallery.

 

What should I wear?

We suggest business or dressy casual attire. Because of unpredictable mountain weather, you may want to dress in or bring layers. We also suggest comfortable shoes for walking.

 

Can I bring an animal?

While Lees-McRae is proud to be a pet-friendly campus, due to the complexity of the days' events, we ask that you please leave your pets at home. Service animals are allowed.

 

Will childcare be available?

Families are welcome to attend. Those requiring care for young children should make off-site arrangements in advance.

 

Where do I park?

Parking areas have been designated throughout campus. Additional parking with shuttle service is available at the Historic Banner Elk School and the Banner Elk Town Hall. Please refer to the

parking map

.

 

Where do I go when I arrive?

The ceremony is in the Historic Commons at the intersection of Lees-McRae Drive and College Drive. All guests are welcome to take their seats beginning at 1 p.m.

 

Do I need my academic regalia?

Official delegates will wear and should provide their own academic regalia. Check-in and robing will begin at 12:45 p.m. in the Shelton Learning Commons.

 

Where do delegates line up?

The line-up for the procession will begin at 1:30 p.m. Delegates will process according to the founding date of their institution. Delegates of learned societies will line up alphabetically. Marshals will lead the respective groups beginning at 1:50 p.m.

 

Where should I stay?

The college calls Banner Elk home. As a hub for hiking, rafting, climbing, skiing and more, it provides ample opportunity for exploration. Learn more about how you can escape, unwind and indulge in Banner Elk or view nearby lodging options.