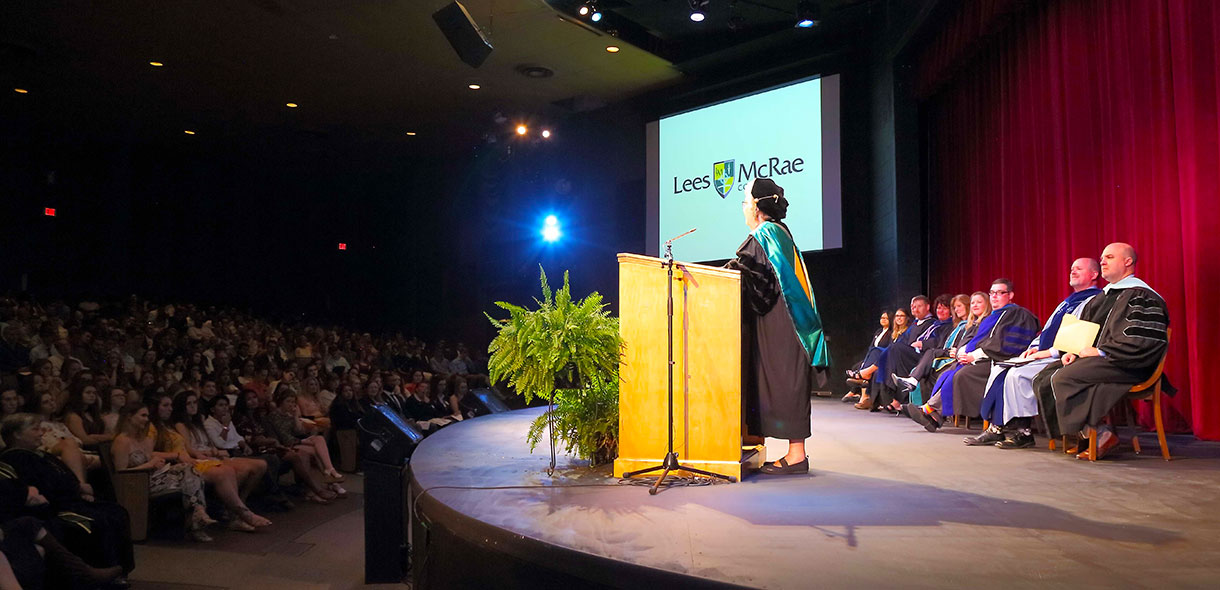 The center of Jane Stephenson's universe
When Jane Stephenson was a student at Lees-McRae in the '50s, she said she never thought she would be here. 
Here meaning at the podium speaking to the entire college community during Convocation. Marking the start of a new academic year, Convocation is a time to welcome the new freshman class and listen to notable alumni share their stories.
The event was also accentuated with remarks from President Lee King, Provost Todd Lidh, and the deans of the four schools.
Stephenson's keynote address titled, "Where is Your Center of the Universe?" consisted of personal tales of her childhood in Banner Elk, her growing connection to the college as she got older, and why higher education is now more important than ever.
All her life, Lees-McRae has been the center of her universe, Stephenson said at the start of her address.
"I especially want to talk to you freshmen about where the center of your universe might be," she added. "I hope that all of you are fortunate enough to have a center to your universe."
She went on to set the stage, painting a vivid picture of a Banner Elk that looked much different than it does today.
There were no ski slopes, no resorts, no bars, very few summer homes, and one stop light. She said that often people would tease her and ask, "Why did you put a stop light in that cow pasture?"
It wasn't just Banner Elk that looked drastically different; the college was almost entirely different, too.
Born next to Hayes Auditorium and Broyhill Theatre, Stephenson took her first breaths in what is now Tate Residence Hall. Back then, the building was Grace Hospital.
When she was still young, her father worked at The Exchange store—a multi-function general store with books and materials for students who were attending the college. Many times instead of money, students would bring vegetables, cows, chickens, and eggs in exchange for tuition.
"I am purely a child of Banner Elk and certainly Lees-McRae," Stephenson said.
For her, growing up in a rural community, the college was a place for her to explore in ways others may not have had the chance to.
Stephenson's favorite spot? 
"I just thought that the library was the most sacred place," she explained. "Oh, the shelves of beautiful books…I just remember thinking to myself, 'I am going to read every one of those.'"
Her dream nearly vanished entirely one day when the library at the time—housed within Tennessee Residence Hall—caught on fire. Thankfully no one was hurt, but nearly all the books were destroyed.
The loss was devastating not only for the college, but the entire Banner Elk community, Stephenson said, "but I saw how important it was to everyone that we have books." So as one, the college and the community worked to restore the library to its former glory.
Stephenson went on to attend Lees-McRae many years later, and so it was "here in Banner Elk that I was prepared to carry on my life's work," she described.
As the Founder of the New Opportunity School for Women (NOSW), Stephenson has gone on to lead, advise, and advocate for those in need living in the High Country. Established in 1987 at Berea College in Berea, Kentucky, Stephenson's NOSW serves low-income, under-educated Appalachian women. Since its start, the program has graduated more than 900 women and has expanded locations to both Lees-McRae and Bluefield College in Bluefield, Virginia.
Much like her program to help those in need, Stephenson explained that it was Lees-McRae that gave her an extra chance at success. Having left high school without a diploma, she was unable to attend nearby colleges and universities—that was until Lees-McRae opened its doors to her.
"Lees-McRae saved [my] educational livelihood, and gave me the chance to succeed," she said.
During her closing statements, Stephenson addressed the freshman class.
"You will find all of these loving and caring people [here] that will nurture you and you must take advantage of it," she said. "In turn, you must always learn how to give to others. Yes, you will eventually go on to other places, but this is where you will return over and over again. Perhaps only in your mind and spirit, but as you go through life you will always remember your experiences here."
Bloom where you are planted, she stated.
"Let your roots dig in here, let the college and the community nurture you, and though the center of your universe may shift, this is where it all began," she concluded, "I wish you all great success."
Watch Convocation 2018
August 28, 2018
CommunityAcademicsCampus LifeFamiliesAlumni