SIGHTS AND SOUNDS
of the Mock Emergency Simulation
On the morning of Wednesday, Oct. 9, faculty and students (though unbeknownst to some of them) prepared for the fourth mock emergency simulation centered at the May School of Nursing and Health Sciences.
Each year, the emergency scenario is different primarily to train and prepare nursing students for different injuries and treatments. Just last year, the cause of the emergency was a drinking-and-driving incident. However, this year was quite different. A bomb has gone off causing the catastrophic failure of a nearby dam—leaving students in the wake of debris and water.
The simulation brings together students and faculty not only from the May School of Nursing and Health Sciences, but also students from the Criminal Justice program posing as police officers, investigators, and various other roles, as well as Theatre Arts students who play the roles of the victims.
Experience the one-of-a-kind simulation through photographs of the day, but also the sounds of the simulation as it unfolded.
Theatre Arts students prepare for the mock emergency simulation applying coconut oil along with water to their hair to simulate wet, dirty strands. The simulation would replicate the detonation of a bomb breaking the dam at a nearby lake. Though students were largely responsible for their own special effects, many students worked together to ensure prosthetics were in place and their makeup looked perfect. 
A common practice in special effects design and execution, sketches guide students as they prepare for the mock emergency scenario. This year, students smudged "dirt" across their faces and bodies, applied prosthetic lacerations and cuts, and adhered "rubber glass"—a silicone-based rubber product developed specifically for special effects. In order to give nursing students a challenge, each theatre arts student was designated particular wounds and symptoms to act out throughout the simulation.
Though nursing students were prepared for an emergency to happen at any moment during the semester, they were unsure of exactly when. From the first sound of sirens, a large boom, and screams, students ran from their classrooms and sprang into action. Heading directly toward the sound, nursing students began immediately triaging, caring for patients in the field, and preparing them for transport to the emergency room on the second floor of the May School of Nursing and Health Sciences.
LISTEN: Banner Elk Fire Dept. pulls into the parking lot of the May School of Nursing and Health Sciences as Nursing and Emergency Medical Services and Management students rush out to begin care.
 
A nursing student assesses a victim beneath a fallen wooden structure. Following step-by-step triage protocol, the victim was pronounced "dead" and transported inside the building. Fatalities, though unnerving to experience, are real consequences that nurses and paramedics must practice handling.
In order to keep track as victims are transported into the emergency room, each patient is assigned a bed and recorded on the white board. This gives nurses the ability to see where each patient is, and which nurse is working each area. As the mock simulation progressed, the board was routinely updated as patients were assessed, treated, transferred, or released.
LISTEN: A heartrate monitor beeps as nursing students and faculty asses and treat patients throughout the emergency room.
 
With the emergency room quickly filling up, nurses again jump into action to take vitals and treat each patient's individual needs. In addition to their physical symptoms, nurses also had to practice calming each patient down.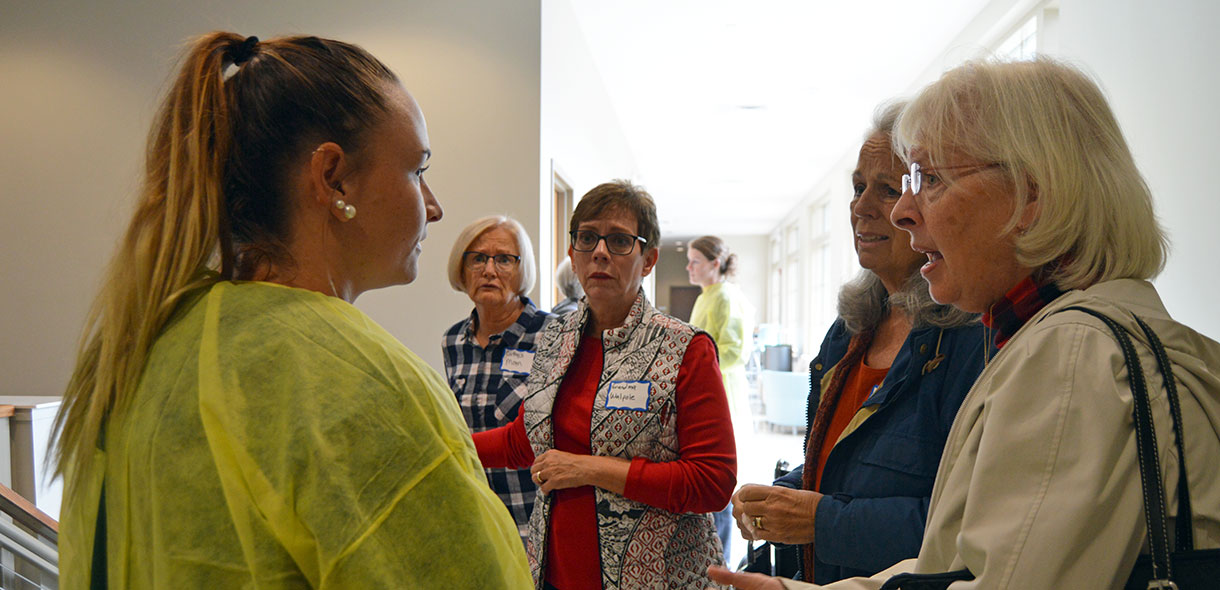 Simulation volunteers standing in as concerned parents of the explosion's victims provided nursing students the chance to practice their skills in talking with emotionally-charged family members. For nurses, it is important to handle high-stress environments of all kinds level-headed. 
LISTEN: Parents ask a nurse the status of their loved ones who were affected in the explosion.
 
Criminal Justice students work with members of the Banner Elk Police Dept. to learn how to document and investigate a crime scene. Students were asked to photograph the evidence, follow specific documentation protocol, and maintain secure perimeters while doing so.
Nurses spend time with each patient recording their vitals before treatment. Even though the event was a mock emergency simulation, students were still able to ask questions and look for recommendations from their professors circulating throughout the room.
LISTEN: A nurse works one-on-one with a patient asking questions and developing a treatment for their wounds.
 
As the simulation came to a close, Criminal Justice students also concluded their investigations into the cause of the accident. As patients were stabilized or released, investigators had the chance to ask questions. The simulation, though with a large focus on the nursing students, was also a vital simulation for those students in the Theatre Arts and Criminal Justice programs. It may had only been a simulation, but for students, it was a key experiential opportunity to practice the skills they have developed in the classroom.