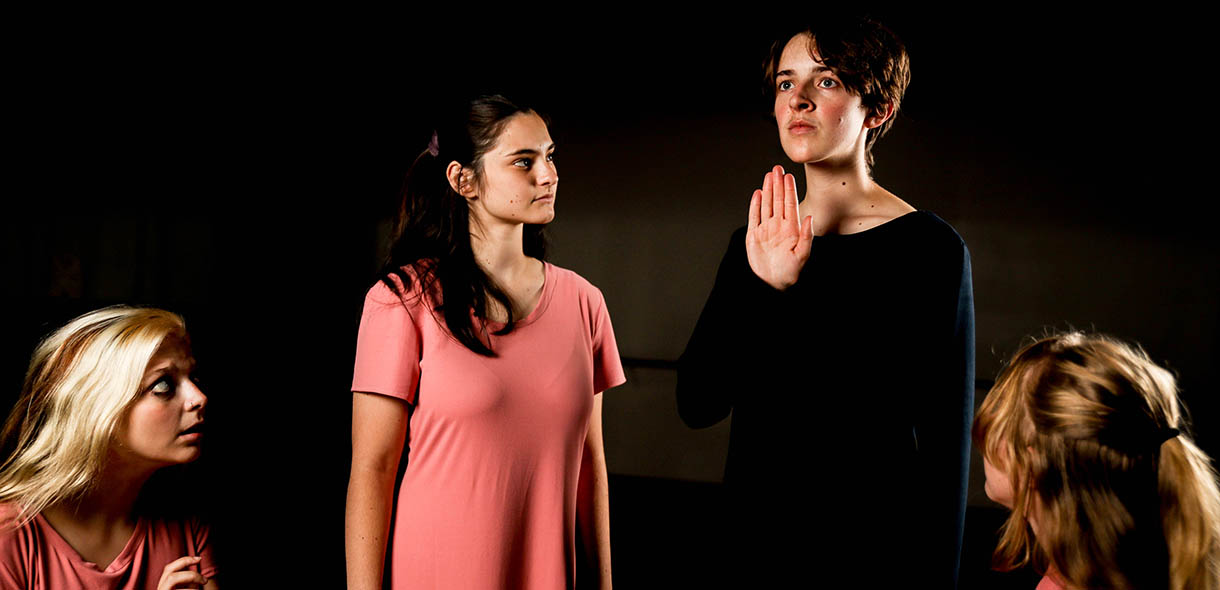 "In the Green" cast embracing challenges, feeling of empowerment
Preparing for the Lees-McRae Theatre Arts fall show has tested the endurance and abilities of the student cast, but the performers have risen to the challenge.
"In the Green," an avant-garde musical by Grace McLean that debuted off-Broadway in 2019, tells the tale of Hildegard von Bingen, one of medieval history's most powerful and creative women who became a healer, composer, exorcist, and eventually, a saint. The five-student female cast composed of Audrey Nidiffer, Allison Dion, Hannah Wilcox, Sydney Lyles, and Annabella Mitchell is ready to put months of hard work on display.
Nidiffer, Dion, and Wilcox will team up to play different versions of von Bingen while Lyles will play Jutta and Mitchell takes the role of Shadow. The actresses will utilize puppets and rhythmic speaking to convey emotions and tell the story. The show runs 90 minutes and the overwhelming majority is set to music. Joshua Yoder, show director and director of Theatre Arts, called the show "practically an operetta."
The complex, layered qualities of the "In the Green" score required the cast members to push themselves.
"When we got our musical score and started the rehearsal process, I quickly found that this is some of the hardest music I have ever worked with in my life," Wilcox said. "The complex harmonies and clashing notes we had to learn have proved to be time-consuming and draining."
"In the Green" features many tight, intricate harmonies, which Niddifer said forces the cast to hit every note perfectly.
"I've cried a lot over this show, but through those tears, I've created a strong bond with the five other women in the show," she said. "We have given our hearts to this production and, really, to each other."
Yoder said that the cast has learned how to speak both rhythmically and with purpose.
"There are moments where there is not a melody but they are speaking in rhythms and there is percussion that goes along with it," Yoder said. "We always speak to get something. They're finding ways to both get the rhythm and communicate those things that the characters are trying to obtain."
The cast members point to the show's challenges as vital lessons.
"We knew going into auditions that if we were cast, we'd be in for something so diverse and unique," Mitchell said. "It has been great to see everyone's growth throughout the whole process."
JoBeth Hilton, who joined as an understudy after initial casting, had a lot of catching up to do.
"The cast and crew were extremely kind and helpful in catching me up and staying after rehearsals to ensure I felt as confident as possible," she said. "It has stretched me as an artist. The department pulled together to exemplify the biggest part of theatre—collaboration."
All cast members said that working on "In the Green" has been an empowering experience—one they can't wait to share with everyone.
"This show is about two powerful women and by performing it, I've been able to find my power," Lyles said. "I've seen the same thing in my castmates. I can't wait for people to experience this empowering journey along with us."
"In the Green" will be performed in Hayes Auditorium, Broyhill Theatre Wednesday, Nov. 10 through Friday, Nov. 12 at 7:30 p.m. and on Saturday, Nov. 13 at 2 p.m. Tickets are complimentary and seating is general admission. Some rows will be closed to allow for social distancing. Audience members are required to wear face coverings, regardless of vaccination status.
November 08, 2021
Campus LifeAcademics