Theatre Arts Performances
The annual theatre productions are an essential component of an experiential education for our Theatre Arts majors and Musical Theatre majors. Students learn how to approach different genres and styles, how to keep an audience engaged, and how to break out of their comfort zones and bring characters to life. 
Tickets
Adult = $15
Child = $10
Tickets are free for Lees-McRae students, faculty, and staff. 

Language of Angels
7:30 p.m., Wednesday, Nov. 15
7:30 p.m., Thursday, Nov. 16
2 p.m., Friday, Nov. 17
7:30 p.m., Friday, Nov. 17
7:30 p.m., Saturday, Nov. 18
Written by Naomi Iizuka
Run time: 70–80 minutes
Directed by Elisabeth Bokhoven
An eerie cycle of ghost stories, set in the cave country of North Carolina. After a young girl is lost in a cave on the edge of town, there is a Rashomon-like investigation of her disappearance and the fate of those who survive her.


The Old Man and the Old Moon
April 11–13, 18–21
Book, music, lyrics: PigPen Theatre Co.
Run time: 90 minutes
Directed by Director and Assistant Professor of Theatre Arts Joshua Yoder. 
Music director: Kathleen Den Bleyker
The Old Man has kept his post as the sole caretaker of the moon for as long as he (or his wife, the Old Woman) can remember. When she is drawn away by a mysterious melody that sparks memories of their shared past, the Old Man must decide between duty (and routine) and love (and adventure). Luckily for audiences everywhere, he chooses the latter, and what follows is an imaginative sea-faring epic, encompassing apocalyptic storms, civil wars, leviathans of the deep, and cantankerous ghosts, as well as the fiercest obstacle of all: change.
The Toxic Avenger
Wednesday, Sept. 27–Sunday, Oct. 1
Wednesday, Sept. 27 at 7:30 p.m.
Thursday, Sept. 28 at 7:30 p.m.
Friday, Sept. 29 at 8 p.m.
Saturday, Sept. 30 at 7:30 p.m.
Sunday, Oct. 1 at 2 p.m.
Book and lyrics: Joe DiPetro
Music and lyrics: David Bryan
Based on Lloyd Kaufman's "The Toxic Avenger"
Run time: 2 hours
Directed by Professor of Theatre Arts Michael Hannah.
Music director: Kathleen Den Bleyker
Melvin Ferd, the Third, wants to clean up Tromaville, the most polluted town in New Jersey (just off Exit 13B on the Turnpike). Foiled by the mayor's bullies, Melvin is dumped into a vat of radioactive toxic waste, only to reemerge as The Toxic Avenger, New Jersey's first superhero. Affectionately known as Toxie, our new hero is a seven-foot mutant freak with superhuman strength and a heart as big as Newark. He's out to save New Jersey, end global warming, and woo the blind librarian in town.
Roald Dahl's James and the Giant Peach
Thursday, February 23 at 6:30 p.m.
Friday, February 24 at 6:30 p.m.
Saturday, February 25 at 2 p.m.
Sunday, February 26 at 2 p.m.
Words and music by Benj Pasek and Justin Paul
Book by Timothy Allen McDonald
Based on the book "James and the Giant Peach" by Roald Dahl
Directed by Mike Hannah

When James is sent by his conniving aunts to chop down their old fruit tree, he discovers a magic potion that results in a tremendous peach...and launches a journey of enormous proportions. Suddenly, James finds himself in the center of the gigantic peach, among human-sized insects with equally oversized personalities, but after it falls from the tree and rolls into the ocean, the group faces hunger, sharks and plenty of disagreements. Thanks to James' quick wit and creative thinking, the residents learn to live and work together as a family. The dangerous voyage is a success, but the adventure takes a whole new twist once they land on the Empire State Building.
The Glass Menagerie
Written by Tennessee Williams

Directed by Josh Yoder
In this play based on Williams' own life experiencies, narrator Tom Wingfield recounts his memories of 1937, when he shared a small St. Louis apartment with his mother, Amanda, and his sister, Laura. Former Southern debutante Amanda longs for the days when she was admired by many suitors, and frets over the future of her daughter, who is as mentally fragile as the glass menagerie she cherishes. Tom feels trapped by his responsibility to his family and the banality of daily life, seeking refuge in nightly trips to the movies. The main action of the play centers around an evening when Tom, at the urging of his mother, invites a work acquaintance to the apartment as a potential suitor for Laura. The introduction of a stranger forces the family to face their deepest fears, regrets, and shortcomings, while Tom as the narrator confronts how his own memories of his past still hold sway years later. 
Clue: On Stage
Based on the screenplay by Jonathan Lynn
Written by Sandy Rustin
Additional Material by Hunter Foster and Eric Price
Based on the Paramount Pictures Motion Picture 
Based on the Hasbro board game CLUE
Original Music by Michael Holland
By special arrangement with The Araca Group, Work Light Productions, and Michael Barra/Lively McCabe entertainment
Directed by Michael Hannah
Based on the iconic 1985 Paramount movie which was inspired by the classic Hasbro board game, "Clue" is a hilarious farce-meets-murder mystery.
9 to 5: The Musical
Directed by Michael Hannah
Book by Patricia Resnick
Music and lyrics by Dolly Parton
Orchestrator: Bill Coughlin
Arrangements and additional orchestrations: Stephen Oremus and Alex Lacamoire
Three female employees, fed up with being harassed by their sexist and amoral boss, fight back against his bad behavior and terrible corporate policies in this musical based on the 1980 comedy film.
Proof
Directed by Josh Yoder
Written by David Auburn
Mathematical genius Catherine gave up her own work to care for her brilliant but mentally ill father. After he passes away, she must grapple with his legacy, her future, and who really wrote the groundbreaking proof found among his possessions. 
In the Green
Directed by Josh Yoder
Books, music, and lyrics by Grace McLean
For thirty years, medieval Catholic nun Hildegard von Bingen lived in a closed cell along with her mentor Jutta and attempted to find wholeness. This indie-rock musical tells her story using innovative puppetry and some of Hildegard's own compositions.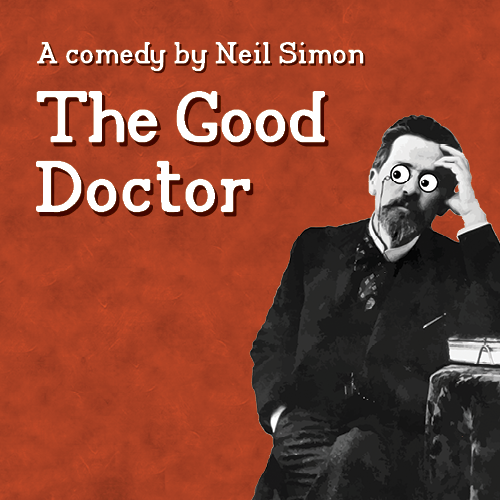 A Comedy by Neil Simon
The Good Doctor
Directed by Joshua Yoder
Authors: Neil Simon and Anton Shekhov
The Good Doctor is presented by special arrangement with Samuel French, Inc., a Concord Theatricals Company.
The Good Doctor was a hit when it debuted on Broadway in 1973 and has continued to delight and captivate audiences through the years. The play consists of 10 short scenes adapted from and inspired by the short stories of 19th century Russian author and playwright Anton Chekhov.

The Mel Brooks Musical
Young Frankenstein (PG-13)
Directed by Michael Hannah
Book by Mel Brooks and Thomas Meehan
Music and Lyrics by Mel Brooks
Original Direction and Choreography by Susan Stroman
Based on the 1974 movie of the same title, Young Frankenstein tells the story of Dr. Frederick Frankenstein (he prefers to pronounce it "Fronkensteen") who is the grandson of the infamous Dr. Victor Frankenstein, maker of monsters. The young doctor may have inherited the family name and castle in Transylvania, but he did not inherit his family's penchant for digging up bodies and reanimating them with a lightning storm.
Silent Sky
Written by Lauren Gunderson
Directed by Joshua Yoder
When Henrietta Leavitt begins work at the Harvard observatory in the early 1900s, she isn't allowed to touch a telescope or express an original idea. Instead, she and her fellow women "computers" are expected to chart the stars for their boss, a renowned astronomer who has no time for women's theories. In her free time, Henrietta attempts to measure the light and distance of stars. But she must also try to take measure of her life on earth, balancing her dedication to science with family obligations and the possibility of love. Silent Sky is a funny, warm, and thought-provoking play that tells the true story of the astronomer Henrietta Leavitt—a woman whose immense discoveries changed the way we understand the heavens.
Craigslisted
Rated R (Adult Subject Matter)
Written by Sharai Bohannon
Guest directed by Karen Sabo

Maggie has a little problem. She's discovered that if she can't pay her electric bill for a few months, the company turns off her power. But she's an undergrad and needs to charge her laptop to do schoolwork, not to mention needing lots of other modern amenities like light and refrigeration. Desperate for money and unwilling to borrow even more from friends, Maggie starts answering personal ads on Craigslist to earn the cash she needs to get by. And that's when things get truly weird.
Craigslisted by Sharai Bohannan explores the compromises we make for money, and how our ethics can become flexible when cash is involved and the stakes are high. This production is rated R for adult content.
Little Shop of Horrors
Originally Directed by Howard Ashman and Musical Staging by Edie Cowan
Directed by Dr. Michael Hannah
Meek floral assistant Seymour Krelborn stumbles across a new breed of plant he names it "Audrey II" after his coworker crush. This foul-mouthed, R&B-singing carnivore promises unending fame and fortune to the down-and-out Krelborn as long as he keeps feeding it blood! Over time, though, Seymour discovers Audrey II's out-of-this-world origins and intent towards global domination. 
Big Fish
Music and Lyrics by Andrew Lippa and Book by John August
Directed by Dr. Michael Hannah
Based on the best-selling novel and the hit Tim Burton film, Big Fish centers on Edward Bloom, a traveling salesman who lives life to its fullest… and then some! Edward's incredible, larger-than-life stories thrill everyone around him—everyone except his son Will. Now that Will is about to have a child of his own, he is determined to find the truth behind his father's epic tales. Overflowing with heart and humor, Big Fish is an extraordinary new musical that reminds us to dream, live and love BIGGER!
And Then They Came For Me: Remembering the World of Anne Frank
By James Still
Directed by Gabriel Vanover
And Then They Came For Me: Remembering the World of Anne Frank is a unique theatrical experience that brings the stories of Holocaust survivors Eva Schloss and Ed Silverberg to life by blending video interviews with live action. Ed was Anne Frank's first boyfriend, and she wrote about him in the beginning of her now-famous diary. Eva Schloss' family lived in Amsterdam at the same time as Anne Frank's, where the two girls met and became friends. Both families ultimately went into hiding to escape the Nazis, and similarly, were betrayed. Their families were arrested by the Nazis before being sent to concentration camps. Both heartbreaking and hopeful, this production will "…stay with you the rest of your life" according to critics. 
The 25th Annual Putnam County Spelling Bee
Music by William Finn and Book by Rachel Sheinkin 
Directed by Gabriel Vanover
Praised for its unique balance of charm and comedy, this Tony Award winning musical is a riotous ride, complete with audience participation. The 25th Annual Putnam County Spelling Bee follows an eclectic group of six mid-pubescents as they vie for the spelling championship of a lifetime. While candidly disclosing hilarious and touching stories from their home lives, the tweens spell their way through a series of words, hoping never to hear the soul-crushing, pout-inducing, life un-affirming "ding" of the bell that signals a spelling mistake. Six spellers enter but only one speller leaves with the title of C-H-A-M-P-I-O-N!  (Please note: This production is estimated to be rated PG-13 and is not recommended for children.) 
This show is rated PG-13.
As You Like It
By William Shakespeare
Directed by Dr. Michael Hannah
As You Like It is a comedy by William Shakespeare written in 1599 and first published in 1623. More specifically, the play is considered as pastoral comedy referring to the life of rural people or shepherds and their ways of living, manners and customs. As You Like It follows the journey of its fleeing heroine, Rosalind, as she escapes persecution in her uncle's court in order to find safety and, eventually, love in the Forest of Arden. On her journey, Rosalind is also accompanied by her cousin, Celia. In the depths of the forest, both women encounter a variety of unique characters including traveler, Jaques. Throughout the play, Jaques refers and speaks many of Shakespeare's most famous speeches and provides a sharp juxtaposition to the other characters in the play—always observing and disputing the hardships of life in the country.
Eurydice
by Sarah Ruhl
Directed by Gabriel Vanover
In Eurydice, Sarah Ruhl reimagines the classic myth of Orpheus through the eyes of its heroine. Dying too young on her wedding day, Eurydice must journey to the underworld, where she reunites with her father and struggles to remember her lost love. With contemporary characters, ingenious plot twists, and breathtaking visual effects, the play is a fresh look at a timeless love story.
Eurydice is presented by special arrangement with Samuel French, Inc.
The Addams Family
Directed by Dr. Michael Hannah
The Addams Family features an original story, and it's every father's nightmare. Wednesday Addams, the ultimate princess of darkness, has grown up and fallen in love with a sweet, smart young man from a respectable family – a man her parents have never met. And if that weren't upsetting enough, Wednesday confides in her father and begs him not to tell her mother. Now, Gomez Addams must do something he's never done before – keep a secret from his beloved wife, Morticia. Everything will change for the whole family on the fateful night they host a dinner for Wednesday's 'normal' boyfriend and his parents.