Countdown to Commencement 2023
Welcome to your home base for all the end-of-year fun and excitement. As the countdown to Commencement begins, keep track of all the important coverage in one place.
Now that the 2022−23 academic year has ended, it's time again to ready the campus for Commencement and prepare graduating seniors to walk across the stage and into the next phase of their lives. Before it's time to turn the tassel, however, graduating Bobcats have had a chance to look back on their time as students, reflect on their growth, and champion their successes through a series of awards ceremonies, celebrations, and honorings.
Meet the Graduates
By the time graduation rolls around each year, students from all corners of campus have left their mark on the college, and their home for the past four years has left its mark on them as well. Each student has a journey, a path, and a story to tell about their time as a Bobcat. Learn more about some of the graduates who belong to the Class of 2023.
The Musical Theatre major reflects on her last four years in the program and talks about how she has grown leading up to Commencement.
Jackson's senior internship opened doors for him in the professional field of criminal justice.
Throughout her time at Lees-McRae Cochran has focused on biomedical sciences and wildlife rehabilitation, two passions of hers where she has gotten plenty of hands-on experience.
Roughton's involvement with Lees-McRae campus life taught her skills that she will continue to implement for years to come.
Upchurch used his time in college to prepare himself for his dream career of athletic coaching.
By double-majoring in Wildlife Biology and Communication Arts and Design, Wells set herself up for success in the field of scientific illustration following graduation.
Commencement Speakers
This year's Commencement speakers are two students who exemplify what it means to be a Bobcat. Senior Exercise Science major Raygan Rensing, and senior Online Human Services major Makayla Gaitan are both leaders in their program, hardworking students, and big dreamers.
Meet the students who will deliver this year's Commencement addresses.
The Exercise Science major has found new passions, gained new skills, and discovered a new career path throughout her time at Lees-McRae.
Gaitan enrolled in the online Human Services program at Lees-McRae to complete her bachelor's degree after earning an associate degree from another institution. 
Ceremonies, Awards, and Events
100 Days Until Graduation
At the 100 Days Until Graduation event this year on Thursday, Jan. 26, graduating seniors shared some of their top bucket list items for their last 100 days as undergraduates. Revisit their list, see how many of their bucket list items you've accomplished, and how many more you can squeeze in before becoming an alum.
Honors and Awards
Each year the Honors and Awards Ceremony recognizes students, faculty, and staff members who have gone above and beyond to succeed, lead, and make a difference on campus. This year the ceremony was held on Thursday, April 13, and Bobcats from all corners of the Lees-McRae campus crowded into Hayes Auditorium to celebrate the honorees.
Alpha Phi Sigma Induction
Each year high-performing students in the Criminal Justice academic program are inducted into Alpha Phi Sigma, the national criminal justice honors society. 2023 marked the third class of inductees into the society with a ceremony on Tuesday, April 25.
This year's new inductees are as follows: Mariana Rinaldo, Elias Dietrich, Madison Rowe, Camryn Belin, Kara Bush, Sydney Sutherland, Mary Johnson, Abbey White, Aubree Wyatt, Savannah Boggs, Hannah Queen, and Savannah Wenk.
The CATSPYS
The 7th annual CATSPY awards celebrated all things athletics at Lees-McRae. A CATSPY is defined as a Lees-McRae student-athlete who possesses a dedicated commitment to their sport and team, adds value daily in and out of the classroom, demonstrates great academic success, and is viewed as a leader amongst their peers. Students of this caliber from athletics teams across campus were recognized for their successes on and off the field at the event.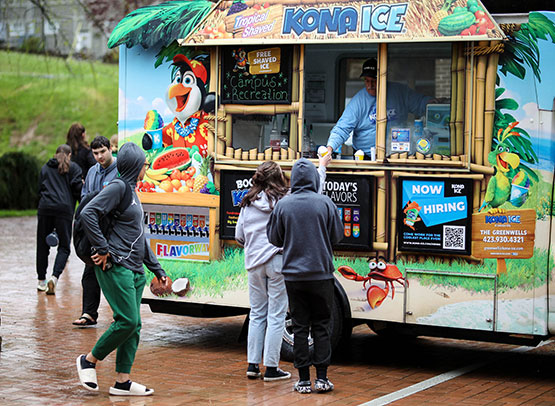 Bobcat Blast
Bobcat Blast celebrated the last day of class and gave students, faculty, and staff an opportunity to enjoy some fun and unwind before graduation weekend. Although rain pushed many of the festivities indoors, Bobcats still came out to indulge in free Kona Ice, joust in an inflatable ring, and play games with their peers in celebration of a successful academic year.
Nursing Pinning and White Coat Ceremony
Each year the white coat and pinning ceremonies honor Nursing students and celebrate their commitment to their profession and their accomplishments thus far. During the ceremony, students receive their traditional white coat as a rite of passage and are pinned with a Lees-McRae commemorative symbol.
Alpha Chi National College Honor Society Induction
The Alpha Chi National College Honor Society is a nationally recognized honor society that inducts college students across the country in honor of their high academic achievement. Each year, membership invitations are extended to the top 10 percent of the junior and senior classes.
This year's newest inductees are as follows: Cooper Barnwell, Cami Belin, Aviva Beringhause, Krista Bernard, Samantha Draper, Jennifer Fowler, Makayla Gregory, Noah Jackson, Amber Jernigan, Neeleigh Maddox, Conner Mills, Madysen Rails, Mariana Rinaldo, Laci Setzer, Kelly Turner.
Baccalaureate Ceremony
The Baccalaureate hooding ceremony is a long-standing tradition at Lees-McRae where graduating students, faculty, staff, and loved ones gather in Hayes Auditorium the evening before Commencement for some final words of advice and encouragement before the big day, and to have a lesson in how to properly wear the graduate hood that comes with regalia.
Each year the graduating seniors elect one staff and one faculty member to deliver the Baccalaureate speeches. This year the speeches were delivered by Director of Campus Life Riley Smithey, and Associate Professor and Veterinarian Amber McNamara.