Annual Mountain Day of Service successfully completes 13th year
By Nina Mastandrea
Professors of Biology Dr. Stewart Skeate and Dr. Gene Spears help out at the 70-acre Lees-McRae Elk Valley Preserve and Field Station during the 13th Annual Mountain Day of Service.
---
  
The college's motto, "In the Mountains, Of the Mountains, For the Mountains," is more than a way of thinking– it's a way of action.
On Wednesday, April 5, students, faculty and staff came together in joined union to complete over 2,000 hours of volunteer work for the Mountain Day of Service.
The celebration—by spirit standards—was the 13th consecutive year, centering on volunteerism and giving back to the community. It was also part of a larger weeklong event on campus—Appalachian Heritage Week.
The week celebrates Western North Carolina's rich heritage with folk music, traditional dinners and pottery making demonstrations among several others.
Together, 496 volunteers participated in 23 Mountain Day of Service related projects not only across campus but also across Avery County.
As one, those near-500 participants cleaned rivers, planted flowers and bushes, painted railings and stairways, scrubbed signs, cleaned animal shelter cages and organized classrooms.
"We value hard work at Lees-McRae," President Barry Buxton said. "It's exciting to me as a president to see so many young people working hard to help those around them and to be constructively engaged in beautifying our campus."
Director of Campus Life and Student Engagement, and event coordinator for this year's Mountain Day of Service, Renee Baker, also shared her thoughts following the event.
"It is such a special tradition," she said. "Our students can create special memories that they will cherish for years to come. It is always encouraging to see the campus community come together as one to devote their time and services to enhancing our campus and the local community."
Take a look below at images from Wednesday's Mountain Day of Service, and experience the difference Lees-McRae students, faculty and staff made together. 
(Video) Volunteers clean the Elk River—the main river that passes through campus. (Photo) Farther down the river, trash was collected at the Elk Valley Preserve and Field Station. At the end of the day, volunteers had trash bags full to the brim to haul across the river.
 
 
A group of students weed, shovel and mulch flower beds surrounding the May Wildlife Rehabilitation Center Wednesday afternoon. Heavy plastic sheets used to cover animal cages dry in the wind after being scrubbed and washed down.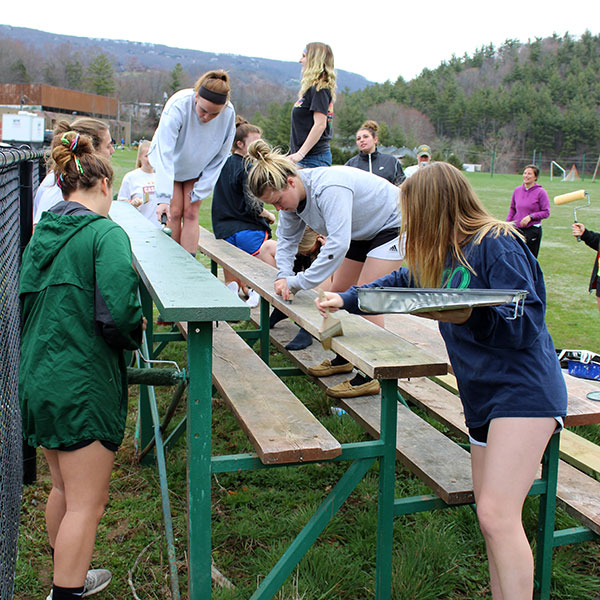 Members of both the women's lacrosse and men's basketball teams sand and re-paint athletic field guardrails and benches. Working together as one is how students and their coaches were able to complete the large job before the late-afternoon rain arrived. 
 
 
Lees-McRae faculty and staff take a momentary break to pose for a photo in front of the Chaffee Administration building. Several volunteers raked flowerbeds and pulled weeds before spreading new mulch. 
 
 
Students rappel down rock faces at nearby Camp Holston in order to create new routes and clean the current hand and foot grips.
 
 
Members of the Delta Zeta Nu sorority pose with the statue of Lees-McRae founder Rev. Edgar Tufts while cleaning flowerbeds, turning over soil and spreading mulch.
 
 
(Left) Students use buckets and scrub brushes to clean the sign in front of the Avery County Humane Society. Over time, the sign can accumulate dirt and grime, but students were able to bring the sign back to its former glory. (Right) A student cleans the glass walls housing one of its adoptable cats.
 
Video and photos courtesy of Dr. Michael Joslin, Sammy Croft '18, Elaina Bassett '17 and Maggie Thomas '19.
Media Contact:
Nina Mastandrea  |  Content Manager
Tel: 828.898.8729  |  Email:
mastandrean@lmc.edu