Bringing help to Haiti
By Nina Mastandrea

Power was spotty at best during the weeklong trip to Haiti.
Trip leader and assistant dean of nursing and health sciences at Lees-McRae College, Dr. Teresa Darnall said that even though it wasn't favorable to lose power in the 80-degree Haitian heat, "we came prepared for this…because this is Haiti."
On the trip, fellow nursing instructor, Dr. Mary Asher and four recent Lees-McRae Nursing program graduates, Kayla Long, Anna Hayes, Thelma Barazza and Lindsay Coles, accompanied Darnall.
From May 12 until 24, the group worked in various health clinics in the Port-au-Prince region–Haiti's capital located in the country's inner southern coast on the Gulf of Gonâve.
For the first five days, the group worked with the Faculty of Nursing Science of the Episcopal University of Haiti (FSIL) in Leogane, before moving to Hope Alive! Clinic Ministries in nearby Mariani.
From 7 a.m. until late afternoon, the students worked largely with children, many orphaned, and women in order to gain exposure to radically different health care systems as compared to those in the U.S. 
 
Preparing for the unfamiliar
Students studied and prepared for the trip to Haiti nearly a year before departing.
Thorough planning and research was vitally important for a group of young nurses who had never been to Haiti, nevertheless to administer healthcare.
"In order to be culturally appropriate, you have to have a good understanding of what is going on in the country itself so you can respond to your patients' needs," Darnall said who had visited Haiti once before in 2016 in order to establish contacts for future trips.
In addition to their Haitian Creole dictionaries, students learned about the country's cultural and political history as well as its geography.
Leogane, 26 miles west of Port-au-Prince, was the epicenter for the devastating and catastrophic 2010 earthquake that killed thousands and effected even more.
Students and leaders alike also had to safeguard their health before they embarked on the journey.
"We had to get the hepatitis A vaccination, which hurt really bad," nursing student Lindsay Coles said. "We also had to take malaria medication the entire time."
Which Coles said made most people feel sick and nauseous.
The group was educated on the dangers of the Zika virus, and were required to wear bug spray at all times, even three weeks after they had returned to the U.S. 
 
The first five days
When the students first arrived in Haiti, Coles recalled the country being, "unlike anything else…it makes you grateful of everything we have here."
Most of the roads were unpaved, Coles added, and there was garbage in the street, but everyone was kind and friendly to the group.
"They all smile even though you can't communicate with each other because of the language barrier," she said.
From the FSIL's host housing, the group traveled to the Hospital St. Croix, the Children's Nutrition Program located five miles away and a mobile clinic located slightly farther.
Working hard and learning in the heat, the students participated in direct patient care, assessing clients, referring them to health providers in their area, and when necessary, providing medication.
"We paired off, each one of us with one nursing student," Coles said.
Hospitals in Haiti are vastly different from those in the U.S., Coles added, "you have to put your expectations to the side and adapt to how they do things at their hospitals."
In the Hospital St. Croix, there was no cafeteria or pharmacy. Family members would have to leave the building and bring back food and medication requested by the nurses as well as blankets and sheets for the beds.
"We needed to make sure we were not criticizing [the nurses there] on what they were doing, they are doing the best they can with what they have," Coles said. "So we come in and say, 'well, hey, maybe can we try this' and not try to overstep our bounds…I think they really appreciated that."
Since power is not reliable in most of the country, many nursing students have to share books and read under streetlights in order to finish their notes by the end of the day.
Coles said that it made her appreciate the technology provided in the U.S. because by days end, most students were finished writing their notes and filling out their logs.
A few days later in the trip, the group led one of several pop-up clinics.
"It was held in a church, but it looked more like a covered picnic area," Coles said. "During that day, we saw over 100 clients ranging in age from infants to elderly people."
Many clients suffered from gynecological and respiratory issues due to limited personal cleaning habits and dust and fumes in the air.
Many Haitians burn their trash as a method of removal, "but when you breathe that in, you can run into a lot of issues," Coles said. 
 
The last six days

For many, including Coles, the second half of the trip came with its challenges.
The group stayed at the Hope Alive! Clinic Ministry, a two-story building with staff sleeping quarters on the first floor and approximately 25 babies ranging in age on the second floor.
Students spent a great deal of time with the hospital's children, giving the limited nurses on staff a much needed break, Darnall said.
"There are maybe one or two nurses working," Coles said, "so it was very hard to keep all of them clean and fed at one time."
In Haiti, there is a desperate shortage of nurses.
Even though the students didn't have vast experience in pediatrics, they pushed ahead, determined to apply what they could and learn quickly what they did not.
"They really had to use their critical thinking skills to apply their knowledge and figure out what was going on and what the childrens' needs were," Darnall said.
On the last full day at the Hope Alive! Clinic Ministry, nurses and students spent the day keeping two critically ill and dehydrated infants cool while tending to the many others in the midst of the blistering heat.
The power cut off again, so in order to battle the stagnant, hot air, staff hustled to cover the babies in cold towels and fan them off as they could.
 
Coming back home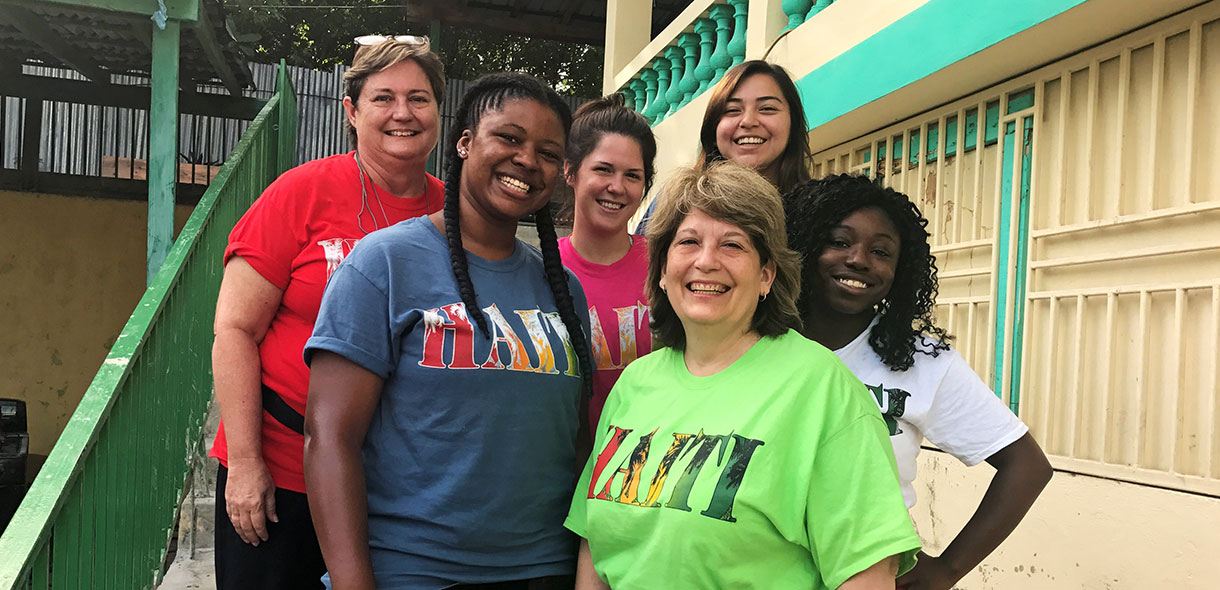 For the students, the trip provided perspective into the healthcare world they may not have otherwise experienced.
"You become more aware of what is really going on, that people don't have everything we have in America," Coles said. "You know it, but until you see it, you really aren't going to be affected by it."
For Coles, the trip provided more than eye-opening encounters–it lit a fire within her.
"This will not be my last mission trip."
Media Contact:
Nina Mastandrea  |  Content Manager
Tel: 828.898.8729  |  Email:
mastandrean@lmc.edu