Lees-McRae honors historic Mountain Day
In a day to celebrate the great outdoors, students, faculty and staff took to the trails during the annual Mountain Day on Wednesday, Oct. 4.
Mountain Day, like much of Lees-McRae, is an event steeped in rich tradition. The College's founder and Banner Elk Presbyterian minister, the Rev. Edgar Tufts, established Mountain Day as a reminder to retreat into the great outdoors and celebrate the natural wonders that lie just beyond the walls.
Originally, Mountain Day involved a five-mile hike to the top of nearby Beech Mountain before enjoying a hearty lunch. Nowadays, participants congregate around Tufts Tower on campus before heading to Wildcat Lake via the Hemlock Trail for the majority of the day. No matter how the traditions of Mountain Day have changed, one thing has largely stayed the same: it's a secret until the bells from Tufts Tower ring across campus marking the beginning of the celebration.
Take a look at some of the sights during this year's Mountain Day. 
 
On the morning of Oct. 4, students, faculty and staff gather around historic Tufts Tower before heading off on the traditional Hemlock Trail hike to Wildcat Lake. Before setting off, Vice President of Student Development and Dean of Students Jon Driggers shared the story of Mountain Day before giving instructions for the hike and the day's activities. 
 
Before arriving at the Hemlock Trail, Mountain Day participants walk through campus side-by-side with friends. Classes are canceled for the majority of the day so all students, faculty and staff can enjoy the day's festivities.
 
Along the hike, participants receive t-shirts they can tie-dye at Wildcat Lake. Though the tradition may not be as old as others, students looked forward to marking the day with something they could take home. At Wildcat Lake, newly dyed t-shirts with splashes of vibrant colors swayed in the cool air.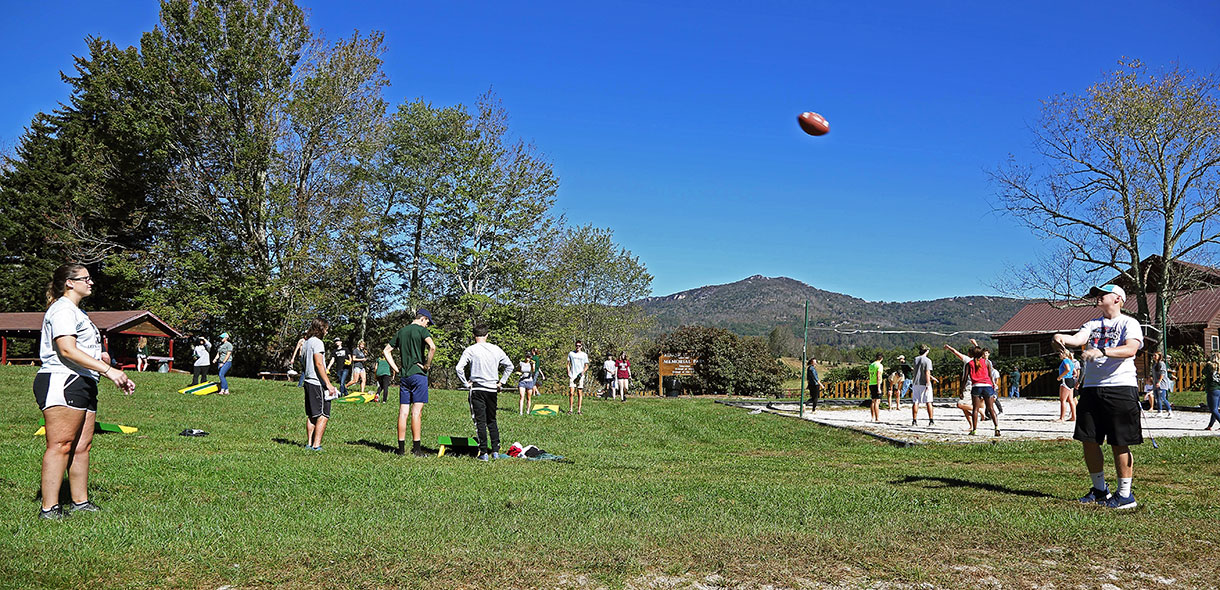 Students throw a football back and forth in the mid-afternoon sun during the annual celebration of Mountain Day. Football wasn't the only sport students, faculty and staff participated in. Many dived for volleyballs on the outdoor beach volleyball court, or gathered friends for highly competitive rounds of corn hole.
 
Students help one another create an "ENO village" on the edge of Wildcat Lake. 
 
Seeking some thrill? Students dare their friends to slide down the large, inflatable slide at Mountain Day.
Media Contact:
Nina Mastandrea  |  Content Manager
Tel: 828.898.8729  |  Email:
mastandrean@lmc.edu