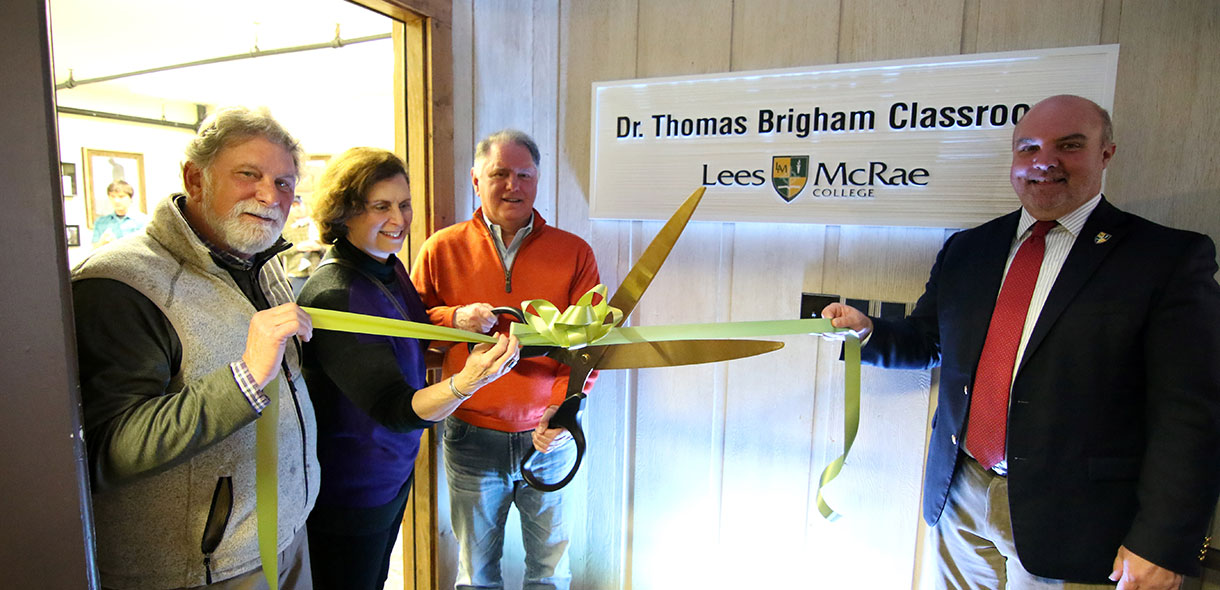 College celebrates grand opening of Dr. Thomas Brigham Classroom at Beech Mountain Resort
Members of both the Lees-McRae College and Beech Mountain Resort communities honored the life and legacy of Dr. Thomas Brigham (1925–2008) with the grand opening of the Dr. Thomas Brigham Classroom on Saturday, Feb. 29.
Located in the Beech Mountain Resort Lodge, the classroom will be the onsite home for academic programs in Outdoor Recreation Management and Ski Industry Business and Instruction as well as a training base for the college's ski and snowboard team.
The space was renovated through a partnership between the college and resort with generous contributions from Tommy Brigham, Peter Brigham, and Ann Pace, the children of Dr. Thomas Brigham. Lees-McRae and Beech Mountain Resort felt it was fitting to name the classroom after a man known as "The Father of Southern Skiing."
A Vermont native, Brigham, who went on to become a dentist and professor of dentistry, "played a pivotal role in the success of southern skiing—an industry that has brought a vibrant four season tourism economy to the Southern Appalachians," North Carolina-based travel editor and writer Randy Johnson said. "Brigham…was so inspired by a Reader's Digest article about the success of snowmaking that he left dentistry, and with his devoted wife Marye and young family, dedicated his later life to developing the three biggest ski resorts in the South."
Brigham was integral in the development of Beech Mountain Resort in 1968 and Sugar Mountain Resort the next year, before moving to West Virginia for the establishment of Snowshoe Mountain—the South's biggest ski resort.
During the event, Beech Mountain Resort Director of Marketing and Talia Freeman '06, President Lee King, and Tommy Brigham, addressed those in attendance and thanked organizations that helped make the classroom a reality. Project contributors included the Costin family, AppNet New Media Studio, Banner Elk Tourism Development Authority, Beech Mountain Ski Shop, Catalyst Sports, Kiwanis Club of Banner Elk, Root Down Hair Studio, and Webb Painting.
"We are constantly looking for ways to further enhance economic development," Freeman began. "Our partnership with Lees-McRae College will help us foster professional growth, not only in the ski industry, but in the High Country as a whole. Our hope with the [Ski Industry Business and Instruction] program is that we can further cultivate a positive educational and work culture at Beech Mountain Resort, while providing career opportunities. I'm proud to be a Bobcat."
Following Freeman, Dr. King came to the front of the space.
"I am incredibly grateful for the impact you all have made on this program," King said addressing the crowd. "As well as the impact your father made here in the High Country," he directed to the Brigham family.
Tommy Brigham—alumnus, and former trustee and chairman of the board—then began his remarks, sharing that he's sure his father was looking down from heaven thinking how "wonderfully unbelievable" the occasion was, "because he never even would of dreamed this," he said. "I want to thank you all for honoring my father in this way—we are very humble and very grateful."
After the remarks, Dr. King and the Brigham family officially opened the classroom together with a ceremonial ribbon cutting before inviting guests to tour the space.   
March 10, 2020
AlumniAcademicsFamiliesCommunity