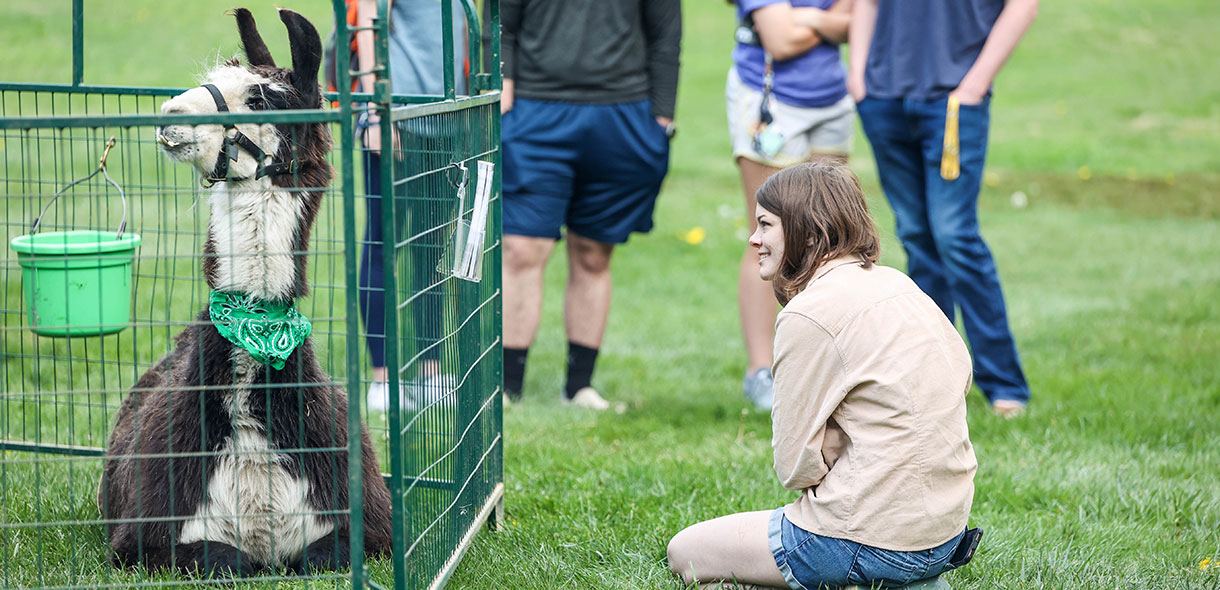 Appalachian Heritage Week serves as important educational experience for the college and local community
Each year Lees-McRae college hosts Appalachian Heritage Week, a multi-day event that celebrates Appalachian history and culture and serves as a premier co-curricular learning experience not only for the members of the campus community, but the local community as well.
"Before we started doing Appalachian Heritage Week, we just didn't have a time where we focused solely on the heritage of Appalachia," Director of the John B. Stephenson Center for Appalachia Kathy Olson said. "We wanted to take a week where the focus was on the way things were done in the past, where we could look at our heritage and highlight it, and then talk about current issues at the same time. We want to look at history in relation to where we are today and how we continue to move forward."
Each year the Stephenson Center plans a week full of activities, lectures, and musical performances that deepen the collective knowledge of this area's history, and this year was no different. From Monday, April 18 to Friday, April 22, the Lees-McRae campus became a bustling hotspot for all things Appalachia, providing rich cultural experiences in the spirit of Edgar Tufts.
Margaret Tufts Neal notes the founder's educational philosophy in "And Set Ago a Sacred Flame," her book on the definitive history of the college, saying, "Mr. Tufts believed in an education for mountain girls that included pleasures and an appreciation of music, art, and their own mountain country."
Appalachian Heritage Week sought to do just that, and allowed students, faculty, staff, and community members to immerse themselves in traditional art forms of the region with the New Opportunity School for Women's quilt display in King-Shivell and a hands-on pottery making experience with ceramic artist Rob Winthrow.
Ceramics and fiber arts alike have a long history in this region, due to both their functionality and artistic value. The history of these art forms is rich with tradition, Appalachian Heritage Week being the most recent tradition added to the list. Participants were able to experience a little part of this history firsthand by throwing and shaping their own pots in Swank Park under Winthrow's guidance.
Music, another key element of Appalachian culture, was also on display throughout the week with multiple live performances from artists who call these mountains home. Award winning guitarist, singer, composer, and all-around revered Appalachian musical artist Jack Hinshelwood performed on Monday evening, and East Tennessean singer-songwriter of popular blues and old-time tunes Ed Snodderly performed on Tuesday evening.
"These two musicians are among the most respected at what they do," Olson said. "With Hinshelwood ably representing the region's past and Snodderly memorably reflecting the region's present, Appalachian Heritage Week acknowledged the full extent of Appalachia's lived history."
Both artists represent amalgamations of the different elements that make Appalachian music what it is today. Hinshelwood has promoted and performed the music of Appalachia for over 40 years, and both he and Snodderly mix traditional styles such as blues, old-time, and bluegrass in their songs. This idea of appreciating old school traditions and bringing them into the modern day is the very essence of Appalachian Heritage Week.
"Even as coal has been Appalachia's most visible natural resource since the Civil War, music has been the region's chief cultural export," Olson said. "Even as it entertains people within and outside Appalachia, music has the power to educate people in unforgettable ways. The lyrics of Appalachian songs and ballads tell engaging stories that are infused with the region's timeless, universal values."
The third component of Appalachian Heritage Week this year was academic lectures. In organizing this year's programming, Olson sought to break down stereotypes about the region and highlight the rich cultural influences from different groups. William Turner and Ted Olson each delivered a lecture focusing on the diverse backgrounds that make Appalachia what it is.
"It is important to understand, or at least have a sense of, the history of the region as a complete and diverse entity, made up of individual parts. If not, we are often left with stereotypes developed by those outside the region with little acknowledgment of the complexity of the culture they attempt to represent," Olson said. "I wanted to present a multitude of stories that show the incredible diversity of the region and the many different voices of this place."
On Wednesday, April 20, Turner delivered a lecture on his latest book "The Harlan Renaissance: A Memoir of Black Life in Appalachian Coal Towns." Based on his childhood in the coal mining community of Lynch, Kentucky in Harlan County, the book paints a picture of life for Black Appalachians in these company towns.
Turner is well known for his groundbreaking research on African American Appalachian communities, a history that is often overlooked despite its profound impact and importance on the development of the region.
Ted Olson delivered his lecture on the influence of the Scots Irish in Appalachia on Thursday, April 21. Olson has studied the connection between Appalachia and the British Isles for many years as a faculty member in the East Tennessee State University Appalachian, Scottish, and Irish Studies department.
The impact of the Scots Irish immigrants who settled in western North Carolina is deeply felt still today in many of the Scottish Revivalism traditions of the region like Grandfather Mountain Highland Games, an annual festival which celebrates Scottish and Celtic culture.
"It is vital to recognize and celebrate the cultural diversity of the region because there is not just one Appalachian culture, there are many Appalachian cultures," Kathy Olson said. "Just as there are multiple different Appalachian subregions, there are multiple different Appalachian subcultures, and by including presentations on the African American experience in Appalachia and on Scots Irish history in Appalachia, Appalachian Heritage Week made sure to provide deep coverage of two of the most influential cultural influences upon the forging of Appalachian identity."
The annual tradition of Appalachian Heritage Week is a key element of the cultural celebration and education that was so important to Edgar Tufts and remains an important part of the Lees-McRae experience.
April 25, 2022
Campus LifeCommunity