Sport Management
The Bachelor of Arts in Sport Management is designed for students with a career interest in athletic administration, coaching, personal training, sports media and business. The primary goals of this program are to develop an in-depth knowledge of managerial planning, organization and administration, evaluated within the context of a sport organization, and develop competent leaders who desire to continue their study in a graduate program focusing on Sport Management. 
The Sport Management Program is built upon a strong foundation that consists of seven powerful Pillars of Learning:
Leadership
The management of people, facilities and organizations
The design, development and marketing of sport programs and sporting events
The financial management of sport and sport organizations
Ethics, law, safety and compliance in sport
Outstanding communication skills in speaking, writing and making presentations
Successful personal career preparation and career development, while understanding the high level of skills, knowledge, commitment and hard work on a daily basis that is required for success in the field of sport due to the quantity and quality of competition
FAST FACTS
Experiential learning opportunities available through the Bobcat Athletic department and the Mountain Television Network.
Lees-McRae has 21 athletic teams that students are able to get involved with and learn from.
Our program is led by instructors who have had successful careers in collegiate and professional coaching as well as sport management.
What You'll Study
All of the courses in our Sport Management program are designed to fulfill the fundamental principles of all seven pillars of our Sport Management program. Therefore, every course will include components from each of the seven pillars within the course in order that our students will come to understand every aspect of each crucial pillar, and in addition, so that our students develop the inherent and ingrained ability to consider and allow for all seven pillars with every challenge and decision they are faced with throughout their careers.    
Some of the topics you will study are leadership in sport, sport finance, sport law, organization and administration of sport programs, sport facilities and venue management and contemporary issues of sport.
Beyond the Classroom
Our Sport Management students gain valuable and rewarding experiences outside of the classroom. These experiences include excellent internships with championship-winning professional sports teams, golf resorts, our Lees-McRae Athletic Department, area ski resorts, the YMCA and sports development organizations.
Similar Majors
Popular Minors
After Graduation
The sport industry has many opportunities for graduates who are interested in professional sports, college and high school sports, amateur athletics, community sport programming, sport in the corporate sector, and sport for development. As the sport industry continues to grow, new career opportunities are becoming available in areas such as business, recreation, facility, and event management. Sport professionals find themselves in a unique and rewarding industry that crosses paths with many other industries.
Alumni Succeess
Dustin Barrow
Assistant Men's Lacrosse Coach at Lees-McRae
Read more about Dustin >>
Desean Motley
Assistant Men's Basketball Coach at Lees-McRae
Read more about Desean >>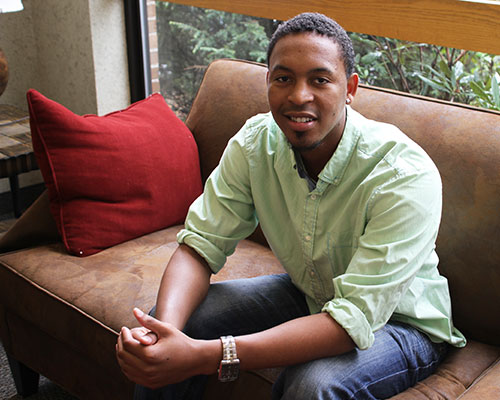 Graduate Spotlight: Darius M. Malbon
Hometown: Hickory, North Carolina
Degree: Sport Management major, Mathematics minor
Post-Graduation Career Plans: General intern for the Hickory Crawdads minor league baseball organization and a Media Outreach Coordinator for Resurrection Church in Hickory, North Carolina. In the fall, I have the opportunity to get my master's degree in Entrepreneurship, Innovation and Management at the University of Nottingham in England.
Why did you want to pursue a degree in your field? I enjoy sports and want to be able to use sports in order to allow people to reach their potential. I really enjoy watching people succeed and sports are a perfect way to develop the skills and determination needed in order to succeed in their career.