Online Learning
As a working professional, we know your time is limited. Our affordable distance learning programs are designed with you in mind. Our coursework provides the knowledge and practical skills you need to advance in your field. The flexible course structure allows you to study on a schedule that fits your life. Through web-based technology, you can conduct your coursework at any time from anywhere. However, you are not alone—faculty members and other trained support service personnel are available at the click of a button. Let us help you finish what you started.
Fulfill your ambition.
PER-CREDIT-HOUR COST STRUCTURE
Out-of-pocket costs are some of the lowest in the region
MULTIPLE START DATES
Flexible structure for studying on your schedule
(Start dates: January, March, August, and October)
VIRTUAL SUPPORT
Online tutoring and career services available
Business Administration, BAAS
Grow your critical thinking skills and prepare to compete in today's global business environment. In our Business Administration courses, you'll build knowledge of accounting, finance, management, marketing and sales, purchasing and more. As a graduate, you'll have the opportunity to develop as a leader and further your career in a competitive world.
Criminal Justice, BAAS
Continue your education and prepare to advance in the criminal, investigative or juvenile justice systems. Our coursework, combined with your training, will enable you to succeed at the local, state or federal level. Many of our graduates hold leadership positions in law enforcement and governmental agencies.
Elementary Education, BS
Develop your teaching skills and learn more about best practices in elementary education as you work to complete your degree. Our program will prepare you to be a teacher and mentor, and when you graduate, you'll be licensed to teach in the North Carolina public school system as well as equipped to work in private schools, as an administrator and even teach abroad. 
Human Services, BAAS
Support individuals and communities by furthering your education in the Human Services field. Our coursework will prepare you to become a board-certified Human Services Practitioner and work in diverse settings such as group homes, correctional facilities, community mental health centers, family service agencies and rehabilitation programs, among many others.
 
RN to BSN, BSN
Designed for registered nurses, our program will build on your current knowledge and skills while opening doors to opportunities in management and leadership positions in the medical field. When you graduate with your BSN, you'll be prepared to succeed on your board certifications, in graduate school and as a nursing professional.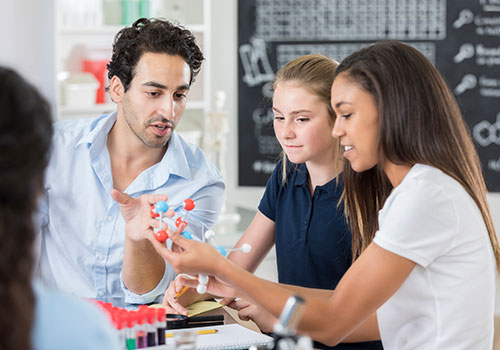 Master of Arts in Teaching, MAT
With an existing bachelor's degree, you can take what you already know and love, pair it with graduate-level instruction in education, and find or continue a teaching career. Upon completion of the program, students receive a license in secondary education with a concentration in one of three areas—history/social studies, biology, or English.
 
Surry Community College Partnership
Lees-McRae offers programs that correspond with degree offerings at Surry Community College (SCC) in Dobson, North Carolina.
Our elementary education program is offered at SCC as a degree-completion option for those who have already completed two years of undergraduate education in the elementary education field. 
Students pursuing a bachelor's degree in nursing may choose one of two paths—the LPN to BSN RIBN program for licensed nurses or the RIBN program for nursing students who wish to become registered nurses while earning their bachelor of science in nursing degree.