Alumni
We all know that the journey doesn't end once you graduate or find that first job. As a Lees-McRae alumnus, you are encouraged to stay connected and continue to utilize the services offered by Career and Life Planning as you progress in your professional journey. Want to help current students along their journey? Consider reaching out to Career and Life Planning and get involved!
Services
Lees-McRae alumni are invited to use Career and Life Planning at any point in their career to review application materials, prepare for interviews, or gain advice on making the next career move.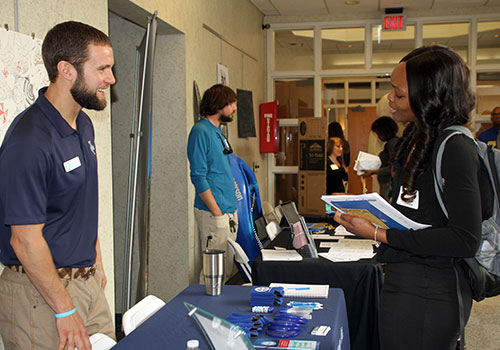 Get Involved on Campus
Your participation in networking events allows current students to learn from your valuable experiences and become more prepared for post-graduation success.
Events
Career Connections: This annual career conference includes guest speakers, industry-specific panel sessions, professional workshops, and resume clinics.
Formal Dinner: Serve as a table host during the dinner and help students practice formal dining etiquette, engage in professional conversation, and learn best practices for self-promotion.
Social Impact Mixer: Professionals representing organizations that support a cause gather to meet students who share share similar values and are seeking job, internship, or volunteer opportunities.
Internships
Hands-on learning is the best way for students to gain experience in their field of interest, build skills for the competitive job market, and expand a resource network. Contact Career and Life Planning to begin the process of building an internship or hiring an intern today.
Jobs
To find the Bobcat that's perfect for your team, we'll post positions on our job board, advertise opportunities in creative ways, and connect you with the right candidates.
Career and Life Planning is conveniently located on the bottom floor of the Shelton Learning Commons. Designed to foster your creativity and show you new ways to learn, the Shelton Learning Commons features both private and group study rooms, classrooms, open workspaces, and equipment you can use to create your next masterpiece or finish that final project. An open resource for all students, the Burton Center for Student Success offers tutoring, academic advising, learning assistance, and career advice to help each student discover the best path for their individual success.