Faculty-led Programs
Many academic programs at Lees-McRae incorporate a travel opportunity into the program curriculum. This is a valuable, once-in-a-lifetime learning opportunity for all involved!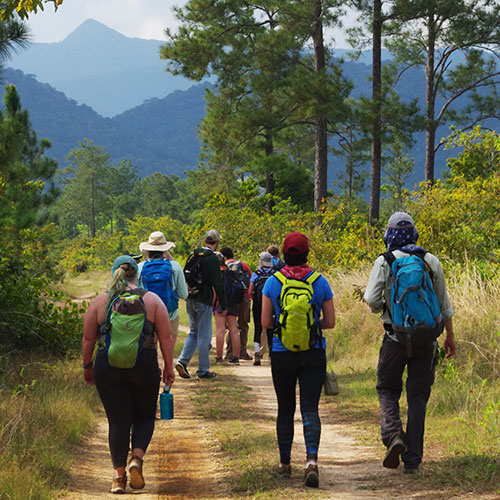 Belize
Led by Dr. Sean Collins, students from the tropical biology class spend a week learning firsthand about the flora and fauna of this Central American country. After a visit to the Tropical Education Center at the Belize Zoo, the group heads for BFree, a research station and education center in the jungle at the base of the Maya Mountains. Here students participate in research and learn about some of the ongoing projects at the site, including the hicatee turtle breeding program designed to preserve this critically endangered species. The last stops on the program are Placencia, a town on the Caribbean Sea, and Laughing Bird Caye, an island, national park, and prime snorkeling spot eleven miles off the coast.
Haiti
Students from the Lees-McRae nursing department accompany Dr. Teresa Darnall and other faculty to deliver much-needed medical care to Haitians through Hope Alive! Clinic Ministries. Besides providing medical services to clients, the group also helps with educational projects. In 2018, students and faculty from the education department also participated in the program and helped conduct cognitive and developmental assessments of local children. 
New Zealand
Wildlife biology students accompany May Wildlife Rehabilitation Center director Nina Fischesser on an expedition to New Zealand, a country well-known for its biodiversity and conversation efforts. Traveling to both the North and South Islands, the group visits centers for wildlife rehab and explores the many natural wonders of New Zealand. Additionally, participants have the chance to become familiar with the indigenous Maori culture. Taking place during winter break, this program lasts approximately four weeks. 
Jamaica
Together with Dr. Pam Vesely, students in elementary education visit schools to conduct assessments and research and help plan activities and programs for local children.