NC Regional Wildlife Medicine Symposium
Friday, July 26, 2019
Hosted by the May Wildlife Rehabilitation Center
Lees-McRae College Campus
An opportunity for wildlife enthusiasts to learn treatment techniques for sick and injured wildlife
The third annual NC Regional Wildlife Medicine Symposium provides a continuing education opportunity for veterinarians and veterinary technicians focused on the recognition, triage, and treatment of wildlife. From legal implications to safe handling and zoonotic diseases, the veterinary team plays a crucial role in the overall health of the animal and, in some cases, the finder.
Hosted by the May Wildlife Rehabilitation Center at Lees-McRae College, this symposium will also allow networking opportunities between local veterinarians, veterinary staff, state officials, and other experts in the field. 
Earn seven hours of continuing education credit while learning from experts in the field!
Cost
Veterinarians: $175
Veterinary Technicians: $50
Students/Non-students/Other: $30
Payment is available via credit card by clicking the Get Tickets button below. The early registration deadline is Sunday, June 30, 2019. After that date, an additional $25 fee will be charged.
Symposium Schedule
| | |
| --- | --- |
| 7:15–8:30 a.m. | Registration |
| 8:30 a.m. | Welcome |
| 8:40–9:30 a.m. | Understanding Rabies in NC; Prevention, Control, and Epidemiology by Dr. Carl Williams |
| 9:40–10:30 a.m. | "If you touch me—I die": Safe Ways to Handle and Restrain Wildlife by Dr. Ernesto Dominguez |
| 10:30–10:50 a.m. | Break |
| 10:50–11:40 a.m.  | Important Diseases of Wildlife in the Eastern United States by Dr. Rick Gerhold |
| 11:50 a.m.–12:40 p.m. | The Wildlife Expert Community: Animal Help Now's Role by Ms. Elena Rizzo |
| 12:40–2 p.m.  | Lunch |
| 2–2:50 p.m.  | Ticks and Tick-borne Diseases by Dr. Rick Gerhold |
| 3–3:50 p.m.  | Decision Making and Techniques in Wildlife Euthanasia by Dr. Jen Riley |
| 4–4:50 p.m. | Case Selection: Picking the Right Patient for the Right Treatment by Dr. Ryan Colburn |
Speaker Biographies
 
Carl Williams, DVM, DACVPM 
State Public Health Veterinarian, Communicable Disease Branch, North Carolina Division of Public Health 
Dr. Williams currently serves as the state public health veterinarian for North Carolina, a role he has held since 2004. Duties include managing a diverse group of professionals charged with epidemiologic surveillance for food-borne, vector-borne, and zoonotic diseases.  He serves as a subject matter expert for federal, state, and county officials, providing guidance to local health departments, medical providers, veterinarians, and animal control officers.  Prior to returning to North Carolina, he served as an Epidemiologist with the Wisconsin Division of Public Health and a Public Health Officer in the United States Air Force.  Dr. Williams earned his Doctor of Veterinary Medicine degree from North Carolina State University and is a Diplomate of the American College of Veterinary Preventive Medicine. 
 
Ernesto Dominguez, DVM 
Hospital Director, Wildlife Center of Virginia 
Dr. Ernesto grew up in Mexico City. He always loved animals, and after a safari in South Africa in 2002, he knew he wanted to be a veterinarian. After two years of studies in medical school (2003-2005), he quit med school to follow his dream of becoming a veterinarian. He graduated from the National Autonomous University of Mexico (UNAM) School of Veterinary Medicine in 2013. Since the second year of veterinary school, he volunteered at the Wildlife & Exotic Pet Hospital at UNAM. During his last year of veterinary school, Dr. Ernesto spent some time doing his graduation project in avian orthopedics at the Wildlife Center of Virginia. After getting his degree, he completed different postgraduate training in wildlife centers and zoos around the world, including the Belize Wildlife and Referral Clinic, Arcas Wildlife Center in Guatemala, The Maryland Zoo in Baltimore, Africam Safari Zoo in Mexico, the Johannesburg Zoo in South Africa, and a second externship at the Wildlife Center of Virginia as a veterinarian. From September 2015 to June 2016 he completed an internship in Raptor Medicine and Surgery at the Raptor Center at the University of Minnesota. He is interested in Conservation Medicine. Dr. Ernesto is excited to be back at WCV to work with black bears and reptiles and be part of the staff. Ernesto is currently pursuing board certification by the American College of Veterinary Preventive Medicine. 
 
Richard Gerhold, DVM, PhD 
Assistant Professor, Diagnostic and Biomedical Sciences, University of Tennessee College of Veterinary Medicine 
Dr. Gerhold received his BS in wildlife science (1997) and DVM (2001) from Purdue University. Upon graduation from veterinary school, he was employed as the staff veterinarian at the Southeastern Cooperative Wildlife Disease Study at the University of Georgia. He also received a MS and PhD from the University of Georgia in Veterinary Pathology working on classical and molecular parasitology. Following his PhD, he completed a two-year National Science Foundation-funded post-doctoral fellowship at the Forestry, Wildlife, and Fisheries Department at the University of Tennessee researching Lyme disease and tick-borne diseases. He is currently an assistant professor of parasitology in the Department of Biomedical and Diagnostic Sciences, College of Veterinary Medicine at the University of Tennessee. Duties include teaching in the first-year parasitology course and fourth year rotations, diagnostic services, and research.  Research interests include wildlife and public health associated parasite epidemiology, protozoa, and tick-borne diseases. In addition, he belongs to the Center for Wildlife Health at the University of Tennessee which is group of researchers from numerous departments and colleges at the University of Tennessee that perform research on various wildlife diseases. 
 
Elena Rizzo, MS 
Research Director and Wildlife Rehabilitator Liaison, Animal Help Now 
Elena Rizzo is Animal Help Now's research director and rehabber liaison. She holds a Class II, Rabies Vector Species wildlife rehabilitator license and wildlife control operator license in New York State. She earned a master's degree in Applied Anthropology from Northern Arizona University. Her master's research investigated black bear and human interaction in a Western US national park. In 2012, Elena founded Into the Wild, Inc., a nonprofit wildlife rehabilitation and resolution organization that she has led ever since. She worked as an epidemiologist for the NYS Department of Health's Bureau of Communicable Disease Control for more than 10 years prior to joining Animal Help Now in 2014. Elena resides in Saratoga Springs, NY, with her fiancé, stepdaughter and two dogs. 
 
Jen Riley, DVM 
Director of Veterinary Services, Blue Ridge Wildlife Center 
Dr. Riley currently serves as the Director of Veterinary Services at the Blue Ridge Wildlife Center in Boyce, VA. She received her undergraduate degree in Animal Science from Cornell University and obtained her DVM from Tufts University in Massachusetts. She has completed internships at The Belize Wildlife and Referral Clinic in Belize and the Clinic for the Rehabilitation of Wildlife in Sanibel, Florida. Just prior to her current position, Dr. Riley worked as a veterinarian at Lion Country Safari, a semi-free ranging, AZA-accredited zoological park in West Palm Beach, Florida.  
 
Ryan Colburn, DVM 
Veterinarian, John Ball Zoo 
Adjunct Professor, Veterinary Technology Program - Baker College of Muskegon and College of Veterinary Medicine - Michigan State University 
Dr. Ryan Colburn was born and raised in Grand Rapids, Michigan. He graduated with his bachelor's degree in biology in 2006 from Calvin College and then went on to receive his Doctor of Veterinary Medicine degree from the College of Veterinary Medicine at Michigan State University in 2010. Following graduation, Dr. Colburn completed a rotating internship in small animal medicine and surgery with Blue Pearl Veterinary Partners in Grand Rapids, Michigan, where he stayed on for the year following that internship as a senior clinician in the emergency department. Six months into that year, he began working part time as the veterinarian for the John Ball Zoo and gradually transitioned into this role full time by July 2012. Dr. Colburn has a passion for conservation and zoo and wildlife medicine and completed elective rotations during both veterinary school and his internship at the Clinic for the Rehabilitation of Wildlife (CROW) in Sanibel Island, Florida.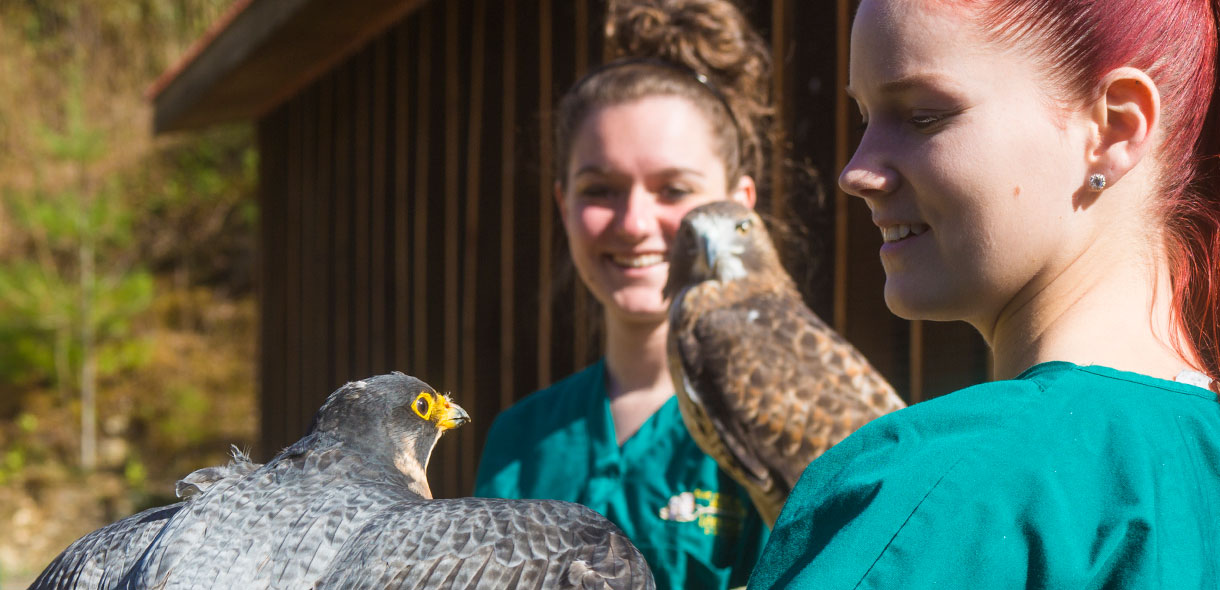 About the May Wildlife Rehabilitation Center
The Dan and Dianne May Wildlife Rehabilitation Center is situated adjacent to the Elk River on the campus of Lees-McRae College in Banner Elk, NC. The Center annually admits more than 1,500 injured and orphaned wildlife patients from the western part of North Carolina. 
Under the guidance of Director Nina Fischesser and veterinarian Dr. Amber McNamara, students simultaneously contribute to the success of the rehabilitation program while engaging in a one-of-a-kind, hands-on learning experience.  Open 365 days per year, students comprise a large portion of the rehabilitative operations at the Center. 
Spend the Weekend
in Banner Elk
Banner Elk is a popular getaway in the Blue Ridge Mountains of the North Carolina High Country. It's a place that blends small town relaxation with the amenities of a larger city.
Visitors enjoy a richness of culture and adventure. Within 15 minutes of the town's lone stoplight you can experience the great outdoors, fabulous dining, theater and the arts, family attractions, and the two largest winter sports venues in the South. (via bannerelk.com)




This program has been approved for 7.0 hours of continuing education credit in jurisdictions that recognize RACE approval. Please contact the AAVSB RACE program if you have any comments/concerns regarding this program's validity or relevancy to the veterinary profession.