FORUM at Lees-McRae College
FORUM was organized in 1979 by a small group of summer residents for the purpose of bringing a stimulating series of cultural programs to the area. With the help of Lees-McRae College, one of the region's most important resources, FORUM has grown significantly and embarks on its thirty-ninth year of providing both cultural enrichment and wholesome entertainment to the community.
The key to FORUM's success is the dedicated involvement and cooperation between seasonal residents, local residents and Lees-McRae College. The FORUM Board of Directors is made up of representatives from each of these groups.
The formula for the selection of programs is unique. Programs are selected as a result of personal contact with area residents and National Talent Agents. Recommendations are made to the Program Selection Committee who finalizes the selections by contacting the artists or their agent for availability during our time frame, while staying within FORUM's limited budget. The Program Selection Committee attempts to balance its choices by providing presentations by vocalists, Big Band/brass, chamber ensembles, pianists, dance and drama. Each year, this committee, led by the FORUM Vice-President, considers more than 50 candidates, reviews performers and reduces the number of candidates to 16 possible programs. These are presented to the Board of Directors who in turn, selects the eight programs for the following year.
Expenses for FORUM programs are underwritten by contributors. In special cases, entire programs are underwritten by members of the community. FORUM plans each year's programs based on the previous year's contributions. The membership year is September 1 through August 31.
To continue our many years of service to the community, you are invited to become a FORUM Patron - $150.00 per person for open seating or a FORUM Centurion - $450 per person for reserved seating and reserved parking.  Centurions and Patrons are provided a ticket to the eight performances each season. Checks should be made payable to FORUM or you may pay with Mastercard, Discover or American Express.
To become a FORUM Centurion or Patron, contact Sandy Ramsey at ramsey@lmc.edu or 828.898.8748 or complete the online application form
Contact
Sandy Ramsey
FORUM Coordinator
ramsey@lmc.edu | 828.898.8748
P.O. Box 649
Banner Elk, NC 28604
Summer 2018 Season
 Doors open at 6 p.m. Shows begin at 7 p.m.
We've Only Just Begun: Carpenters Remembered 
June 18, 2018
This show celebrates the musical legacy of one of the most successful recording acts of all time. Led by Michelle Brett and accompanied by a live five-piece Nashville band, the show re-creates the original sound of The Carpenters.
Roy and Rosemary with Special Guest Tiffany Desrosiers
June 25, 2018
Roy and Rosemary, a pianist and violinist, are a Canadian sensation known for their instrumental pop fusion. The Bogart and Bacall of Hollywood's soundtrack virtuosos, they bring beloved cinematic instrumental songs to your concert stage. Joining them is vocalist, Tiffany Desrosiers, from Vivace last season.
Western Piedmont Symphony
July 2, 2018
The Western Piedmont Symphony returns under the direction of Conductor, John Gordon Ross. Uncle Sam Wants You! With an orchestra and vocalists, the performance celebrates the patriotic accomplishments of all kinds of Americans: soldiers, workers, schoolchildren and each of us in our own way!
William Michals
July 9, 2018
Rave reviews for his concert and theatrical performances across the country proclaim, "William Michals leaves the audience breathless, not only with his spectacular, velvet-toned, passionate, powerful and insinuating baritone, but also his dazzling, dastardly charm and mesmerizing elegance."
Branden & James: "From Bach to Bieber"
July 16, 2018
Finalists in America's Got Talent, Branden & James have been traversing the globe and sharing the stage with legends such as Sarah Maclachlan, Rita Moren and Kimberley Locke. They regularly entertain for Princess, Oceana and Azamara Cruise lines with their energetic shows. They weave familiar melodies of pop tunes in classical style with their own unique sound.
The Dutton Experience
July 23, 2018
The Duttons, international touring and recording artists and family of three generations, perform bluegrass to classical music and everything in between. The show features a variety of instruments as well as dancing and singing. They collaborate to create unique production ideas for their audiences.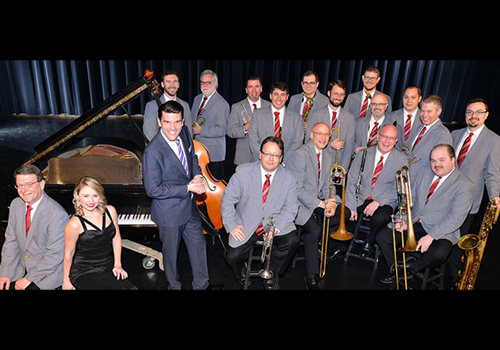 Glenn Miller Orchestra
July 30, 2018
This world famous orchestra is a fully self-contained group consisting of the music director, five saxophone players, four trumpeters, four trombonists and three rhythm musicians (piano, bass and drums). There are two vocalists, one male and one female, who perform individually and as part of The Moonlight Serenaders group.
The StepCrew
August 6, 2018
The StepCrew is an exciting and modern fusion of Ottawa Valley, tap and Irish stepdancing, with performers from the likes of The Chieftains and Bowfire. The five dynamic dancers are backed by a five-piece band including Celtic vocals and joined by the fiddle playing of three champion musicians. The StepCrew simply "drips" energy.
FORUM Board of Directors
Gail Bamman
Henry Best
Mike Fields
French Harvey
Julie Harvey
Gene Hawley
Cynthia Holley
Nancy Hoyt
Jake Jacobs
Harold Kaplan
Bill Lumpkin
Dee Merser
Murray Miller
Mark Polderman
Pat Polderman
Harris Prevost
Jeanine Ramey
Richard Rhyne – President
Joan Rhyne – Vice President
Joe Samuel
Denny Slawn
Nancy Vogelsang